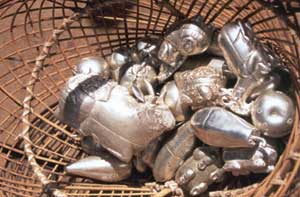 Silver has for centuries been a valued commodity, its value only being matched by the level of artisanship necessary to craft items from a material so precious. Khmer silver has a long history as one of the most luxurious materials, with firm place in Cambodian culture.
The silversmith art form reached its height during the 11th century: when primarily Royalty and the upper class used the crafted objects for ceremonial purposes, funerary and religious rituals. Ornate filigree work became their trademark area of expertise and it is one that continues right up until the present day. Their intricate designs echo the friezes and carvings at the Angkorian temples in Cambodia. Craftsmen produce all kinds of silver objects ranging from silver boxes, images of the Buddha to funerary jars, chopsticks, cutlery and jewellery. In a more modern Cambodia, in a typical shop house, about a hundred metres north west of the Central Market, the owner hoped that he could make a living by selling silver jewellery.
Mr. Kateur Yano, the owner of Rachana Souvenir shop, was sitting on a chair surrounded by glass cabinets, putting away silver jewellery, when he spoke of the future with a smile: "I am hopeful that it will be good in the future," he said. The view of the front of his house is evidence of how busy the shop is. There were scores of drivers all arriving with orders or deliveries, all wanting attention or payment.
Mr.Kateur Yano is only a seller of silver, not a smith himself, occasionally he will put his hand to certain pieces to continue the skills he has acquired. He understands the process and the work, but now no longer actually gets so involved. In 1980, a year after the Pol Pot regime was driven from power; he first went around from house to house to buy broken silver jewellery, to melt it down and make new pieces of jewellery.
Mr. Yano remembers the time: " I did not do them by myself. I just ordered them from the other silversmiths. I sometimes help them when they don't know how to design what I have ordered." Today, he imports the silver from abroad. Usually it has been already melted and ground. They then take the required amount of silver and create the piece that has been ordered. "We import the materials and sell the ones that have been designed already," he said. " We design for both domestic and foreign clients."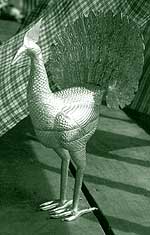 Mr. Yano continued talking about business: "I hope to be able to open more shops in different provinces. Today a lot of my relatives also do this job in the province of Siem Reap, as well as Phnom Penh." " I will not change this job because it is my real skill of silver," he said. " It is not difficult for someone who has the skill of doing it." He attracts a wide range of customers, as he puts it: "My clients are foreigners and local people. The most local clients are high ranking officials and nobilities," he said. Whilst Mr. Yano finds it an easy lifestyle and one that he will not give up, for many others in the trade, it is more frustrating. Since Angkorian times an important silversmith area has been Kompong Loung, just south of Oudong. This area was the royal port of Oudong - the Cambodian capital between 17th and 19th centuries - and as such served important role in trade in the area. These skilled artisans still live in the same area, practising art forms unchanged since then. It was back in January 1999, that the Cambodian silversmith community gained some sort of organisation. They established themselves, having attended many workshops and seminars, as the Khmer Silversmith Association. The Khmer Silversmith Association now has 130 members and is a part of the Cambodian Craft Cooperation.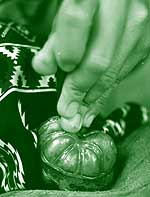 It is in Kompong Luong that the majority of the members can be found. Carrying on a centuries old tradition, whilst using relatively unchanged equipment. In this village, nestled on the banks of the Tonle Sap, like so many others, there is constant activity. Almost every house has its own production line. Usually there is a furnace beneath the house and people busy on the verandas polishing and packing. For centuries they have produced the high quality silver work, including intricate silver bowls in the shape of fruit, elephants, deer, wild pigs, fish and goats, to name but a few of the timeless designs. Nowadays a lot of the orders, which they receive, come in from Thailand. Whilst this is good for business, it is always very similar things that are ordered. One silversmith spoke of how this was stifling their creativity and meant nothing new was being tried. He wished not to have his name mentioned but added that they had to try different things: "we must try new ones, we must adapt to survive." Whilst traditionally the craft has been handed down through the generations, they too are aware of contemporary temptations. Pheap has been a silversmith, in Kompong Luong, since his father taught him: "I was about eight when I first began to learn. I hope that my son will carry on the family work." However he has his doubts and realizes it is likely his son, Sophat, will be drawn to the bright lights of Phnom Penh, rather than the labour intensive and delicate work, which his kin have practised for generations.
With mechanisation closing in around them, the future of these craftsmen is unclear. It is hoped that, by their sheer skill and style, they will be able to survive and their silver will grace the homes of people around the world.