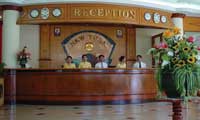 Please note that due to 2003 being Visit Cambodia Year, each Phrase of the Month will be focused on the tourism sector. This is part of a nationwide preparation to welcome in excess of one million visitors to the kingdom in 2003. Accommodation creates temporary living quarters for guests. This is achieved through a variety of sources, including bed and breakfasts, condominiums, time-shares, conference centres, hotels, motels, recreational vehicle parks and campgrounds. Lodging properties and their origins, they provide the bulk of overnight accommodation, can be traced to the time of the Bible. At this time they were more basic and in a famous example not available at all. It has only been with the rapid growth of tourism, after the improvements in travel both railways and aeroplanes, that accommodation has developed into a significant segment of the tourism industry. This growth in the amount of lodging facilities has meant there has been a proportionate growth in the classification systems used to differentiate between them. These are often used for reporting and comparison purposes. These classification schemes show that lodging facilities come in many sizes and types and that therefore they require differing levels of staff and managerial expertise to operate successfully. There exist some basic functions that must be performed across the board, regardless of classification, these include, administration, front office, housekeeping and maintenance.
The necessary staffing requirements of properties change as they grow in size and complexity. Additional line functions such as food and beverage and support staff functions including accounting, engineering, human resource management, security and purchasing will be added as and when needed. Since some of the terminology concerning lodging and accommodation facilities is often loosely, if not incorrectly used, it is important to seek clarification when talking to guests or other individuals in these establishments.
Providing accommodation to the traveling public requires training, dedication to detail and a strong desire to welcome and serve each guest. To meet and serve the diverse needs of travelers, a wide variety of accommodation has been developed. Although much of our attention has been devoted to lodging properties, other specialized forms of accommodation, such as campgrounds and recreational vehicle parks, can significantly increase the amount of guests who can be served from any one location.
The statement: "Come in, please be my guest is more than just words. It is both an invitation and a statement of dedication to provide hospitality to the weary traveler. It is more than likely that if you are staff in such places that you will be the first impression the tourist has of Cambodia. Thus it is important to remember this when dealing with the aspects of tourist accommodation. Anyone can make a hotel, but to do it well takes skill.