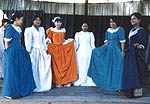 Lakhon Bassac, Lakhon Yike and Lakhon Niyeai drama are the three popular forms of Khmer musical theatre. "Lakhon" itself is translated as "theatre." Each dramatic style was almost decimated by the massive Khmer Rouge executions, but survived even though many of the performers were killed.
But now the art forms are facing a new kind of threat. It's not clear, if they will be pull through this time, in the era of television and karaoke. This year, the Royal University of Fine Arts had planned to accept a class of 30 students, to study the two forms of musical theatre Bassac and Yike. "Only two students applied for Lakhon Yike, while the Bassac program drew only one applicant," said Mr. Proeung Chhieng, the Vice Rector of the Royal University of Fine Arts. The cause of the decline in popularity is apparent: "the problem is, they know that, when they finish they will have no jobs. That's why we don't dare to train them in a lot of numbers, "
Mr. Proeung Chhieng said. Cambodia is not the only country whose musical theater is facing economic pressure. While lavish musical productions remain popular on New York's Broadway, the price for a ticket has risen to $50, or $100, or even higher. Cambodian musical productions are rooted in the countryside, where the typical audience of farmers rarely have more than a few hundred riel to spend on entertainment. The folk opera, Lakhon Bassac, is a lively and entertaining form of Khmer theater. It originated in the mid 19th century in the Bassac area, in the province of Prahtrapheang (which was in the lower part of Cambodia, now known as southern Vietnam). Lakhon Bassac was popularized along the waterways, through which it used to move, and thus through the remainder of the country. It originated with the itinerant river-borne theatre groups of Cambodia and Southern Vietnam. Traveling up and down the Bassac - Hau Giang River in large sailing boats, these troupes would pull in to give performances at the major centers of population. Today in Cambodia, Lakhon Bassac is unfortunately slowly disappearing for the simple fact that its performers cannot earn their living practicing their art.
Lakhon Yike is a more ancient art form, dating from the 8th century. The style originated from a theatrical game involving a multitude of different sized drums, singing and dancing. Regarding Yike theatre Mr. Preuong Chhieng said: "What is needed the actors who have beautiful voices, are pretty, and are good at performing. But it is very hard to choose them because some of them have beautiful voices, but they are not pretty." Khmer Lakhon Yike parallels the Thai Likay and the Malay Jikey, in its mixture of classical and modern choreography and costuming, drawing its themes from old tales of the Khmer kings.
It features an ensemble of both traditional and modern instruments. "Both [Bassac and Yike] involve music, dance and melodrama, with lavish costumes and scenery often based on the Ream Ke, the Cambodian version of the Indian epic Ramayana." Mr. Proeung Chhieng explained. However, the theatrical tradition made a strong comeback after 1979, when the Khmer Rouge were driven from power. The State of Cambodia government subsidized the art form heavily, allowing performers to earn a living, while they reassembled the near destroyed repertoire.
Today's young performers are increasingly choosing easy money over traditional culture. Between 1980 and 1986, the Royal University of Fine Arts graduated average of 80 theatre students per year. Next year's graduating class will include three Bassac students and 13 who majored in Yike. Mr. Proeung Chhieng said he is optimistic that the popular music fad will pass, as others have before: "What is new Khmers catch onto very quickly, but what is not Khmer will not last, "At the time of the arrival of the video, Khmer theatre began to decrease, step by step," moreover, he added, "during the years of 1986 to 1989 Cambodian people discovered and preferred videos . . . at the time we lacked security and the theatre performed at night, this caused people to stay at home and watch TV instead. "In 1990, video begun a decline and the people were very poor, they turned to watch theatre once again but we lacked the capital necessary." Mr Proeung Chhieng illustrates.
"Really, budget is very crucial in starting to do anything," according to Mr. Mann Kosal, Director and Puppeteer of the Khmer Art Association of Sovanna Phum. For each theatre show, they charge between 1,500,000 to 2,500,000 riel: depending on the customer and the performance. "I don't think it is expensive because we have to spend money on clothes and props. One performer will get only 3,0000 riel," Mann Kosal said. He said that there are at least 20 performers in a show. Today in Cambodia, it is common knowledge that the Kampong Cham theatres are some of the best shows. However Mann Kosal points out that: "it is not clear which group is performing well because the best performers always move from group to group." According to Mr. Mann Kosal, there were many kinds of Khmer theatre. After the Khmer Rouge regime was driven from power, there were only three forms of Cambodian theatre, which were very popular amongst Cambodians. These are Lakhon Bassac, Lakhon Yike and Lakhon Niyeai.
Whilst being one of the most modern forms of theatre: Lakhon Niyeai is still a favorite. Mr. Mann Kosal said that it remains popular to the people. Part of this is because the General Department of Sports led a group of Lakhon Niyeai, last March, to play in many provinces and cities, such as Sihanoukville, Kep and Svay Rieng. During this tour, both the audiences and public support were phenomenal. Modern spoken drama or Lakhon Niyeai, was first produced during the 1940s, initially centered on French works in translation. In subsequent decades, original Khmer plays, by Hang Thun Hak and others, began to appear and the genre grew steadily in popularity, leading to the establishment in 1950s of a National Theatre School, with a resident company. Both were subsumed into the Choreographic Art and Music campus of the Royal University of Fine Arts, when the latter opened in 1965. But these popular art forms of theatre lost popularity during the year of 1986, while the people turned to watch videos and televisions instead. Yet later on they turned to watch the theatres once again. "In the 1960s, people loved the Twist dance, but in a short while they tired of it and returned to love popular Cambodian singer Sin Sisamuth." Proeung Chhieng uses as an example. Although it has endured many turns and twists of fate, it seems the spirit of the Khmer Theatre is one that will endure. Modern fads will come and go but in the end people will always want to go to the theatre.