June 1st saw the commemoration of this international holiday. With so many public holidays, it can become overwhelming to differentiate between them all, to ascertain their significance and their role. International Children's Day is much more than merely another day off.
Thousands of children from many schools in Phnom Penh, as well as NGO staff, gathered at Wat Phnom to hold a ceremony to celebrate International Children's Day, on June 1, 2002. Every year nations throughout the world hold ceremonies on "Children's Day", to commemorate the 1942-1944 tragedy, when more than 300 children were burnt and killed in France and the ex Czech Republic. The genocide and torture of women and children under the Pol Pot regime was worse than the atrocities committed by the Fascist Hitler in the ex Czech Republic, Prime Minister Hun Sen said. As a result of the regime, the demographics of the country changed, which means now 40% population are technically children. It seems thus fitting that Cambodia celebrates this day and remembers the loss of many of its own children.
During the Pol Pot regime, a lot of Cambodian children were killed and separated from their family or became orphans, Prime Minister Hun Sen continued. After the liberation of January 7, 1979, although we were in the most difficult of political and economic situations, we still struggled to build orphanages in all provinces, in order to help them grow up in a safe environment and go to school so they can build for our future.
Hun Sen called for all related ministries to cite their own plans, so that they may join in implementing a five year plan. The plan's aims are to fight against child trafficking, sex violations and labor violations against the children, he said. "I am very happy today because it is the children's day. It is the commemorative day to all children who were killed throughout the world," said a young 11 year old boy Sea Tina from The Children's Committee Organization. "Today, children meet a lot of problems such as being forced to be prostitutes, violation of labor rights and the spread of AIDS," Sea Tina said. "Children must have rights. If they don't have these rights, they can be violated easily." On the actual day, there were a lot of banners hanging around Wat Phnom promoting the rights of children. One such banner read: "We have to keep the children far away from drugs" and another read: "No child shall be given up."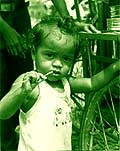 In the ceremony there was a concert, dancing, funny games and a play (Lakhon) entitled "Poverty Meets Cheating". There were many activities at Wat Phnom Park played by children. According to Non Government Committee for Children's Right, there are three big problems that threaten the lives and the safety of children. These were sexual abuse, trafficking and HIV/AIDS. There are at least 150 cases of rape reported per year, more than 50 percent of rape cases occur in Kandal, Kampong Cham and Svay Rieng province. 47 percent of them are between 11- 15 years old. Between 400-800 women and children are trafficked abroad to become sex workers every month. One out of three prostitutes are children: there are 80,000 children in total working in prostitution and most victims are between 12 to 17 years old. The statistics for HIV and AIDS are also shocking. In the year 2000 the number of children with HIV was 3,000. A year later 2,592 children died of AIDS in that year alone.
Another 7,000 children became orphans because their parents died from AIDS and in the upcoming 2003; the number of orphans will increase to a staggering 50,000. It seems that it is no longer a safe world to be a child and it is for these reasons that it is important to mark the event of International Children's Day. It is necessary to look after our children so they can fulfill their potential. They are our future and we need to look after them. "Education is the key to the development of children and to cutting down poverty," Hun Sen said. "We have to take care and advise children to respect the customs and to love the culture of Cambodia."