Korean Telecom Giant Arrives
The South Korean Telecom giant, SK Telecoms, is preparing to enter the country. Whilst having already established itself in Vietnam they are expanding within Indochina. In a meeting with Prime Minister Hun Sen, Kil Sevung-son: the head of the Korean company, expressed interest in investing in a digital network in Cambodia. He visited the country on a fact-finding mission. Now there will be a new telephone number to chose from, this time it will be 019. With more competition there should be an improvement in services across the board. We would like to wish SK Telecoms good luck for the future.
Zen & The Art Of Guidebooks
Whilst not being new in itself, the latest edition of Angkor Zen Guide is due to hit the shelves soon. It marks the first anniversary of this publication. The staff at Leisure would like to take this opportunity to congratulate the editorial staff of Angkor Zen Guide. With a keen sense of design and current information, this guide is proving to be invaluable to the host of Japanese tourists who grace Cambodia each year. The magazine has evolved to a print run of 12,000 and seems to keep growing. They find that each issue there is an overload of stories and plans are afoot to increase the pages.
Originally a mere 48 pages which already has increased to 64 with the next issue looking at topping them all with 80 pages. That should solve the problem of lack of room. Their formula seems to be a winning one and provides an example of successful publishing in Cambodia, a relatively rare phenomenon. With distribution in Japan, Cambodia, Singapore and Vietnam and plans to enlarge this network, the editor-in-chief Emi Uchizumi sees the growth of tourism as very important. Visit Cambodia Year should see this growth realized. After their first successful year, Emi sees that: "the Japanese are one of the countries which visit Cambodia the most. It is difficult to accurately gauge the amount. We will keep meeting the needs of this market." With their office in Phnom Penh, they are positioning themselves for another successful year. With the magazine published and printed in country it provides a fine example of what the industry can do.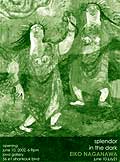 Splendor In The Dark
Java Art Gallery is hosting an exhibition by Japanese artist Eiko Naganawa. The exhibition is called Splendor in the Dark. Encapsulating a variety oil paintings from the dark and almost eerie to the bright and radiant including some prints - it proves to be a very eclectic collection. While taking inspiration from Cambodia, in some of the works she deals with the notion of Apsara and puts a pragmatic angle on their representation. The celestial dancers are depicted in everyday surroundings: essentially putting the divine into the mundane.
In October of 2001 she held an exhibition in New York at the Caelum Gallery, it describes her unique angle on the Apsara: "instead of having them flying about, she brings them down to earth. Some sit comfortably on a sofa, or enjoy a day by the sea." Motivated by the sympathy for the suffering of this kingdom's people she felt moved enough to visit and try to improve the Cambodians situation in what ways she could. The Ankorian temples have heavily influenced her work and yet she manages to communicate this without falling into clichéd representations. The exhibition runs until the 21st July at Java on Sihanouk Boulevard.
Casting A New Shadow
Established in 1995 as a venue and workshop for traditional Khmer cultural arts Sovanna Phum has had a revamp. The theatre has just completed a new stage. With this improvement they will be able to incorporate many more acts. The name means "Magic Village". The Khmer Arts Association was founded by a group of students from the Royal School of Fine Arts in 1994. They began by sharing their efforts in the arts, music and dance. They have also toured nationally and internationally. They just hosted a French theatre group called the Turak Company, who produced a unique show with their Cambodian counterparts. They also sell some amazing leather shadow puppets. Both the theatre and the Association play a crucial part in the redevelopment of these art forms within the kingdom.
Branching Out
Cambodia Shinawatra is opening a new area office at Suite B7, Regency Square, InterContinental Hotel. As one of Cambodia's top telephone operators they are expanding with their customer base. Originally Cambodia Shinawatra was a joint venture with the Royal Cambodian Government, to establish a Wireless Local Loop telephone service. Since then they have expanded and are now one of the country's top mobile telephone service providers.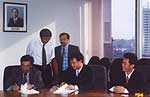 Reawaken The Slumbering Giant
The Royal Group won an exclusive contract to be the sole distributor of Canon products in the country. Although they have been present for some time, Canon is reinventing itself and they held a soft launch at the InterContinental Hotel on Wednesday 29th May. With big plans for a newly designed state of the art showroom and innovative marketing, they are sure to be a noticeable presence once again!
Hydro-electricity In Kirirom
Kirirom I hydroelectric was opened again on May 29, 2002 under the presidency of Prime Minister Hun Sen after it was destroyed in the time of the civil war. This station uses a line-sent network that can send 115 kilovolts about 120 kilometers: connecting Phnom Penh along the National Road 4. There is also an additional sub delivery station in Kampong Speu province. Kirirom I hydroelectric station and network was built and used once in 1968. However the infrastructure needed was destroyed. "Energy of electricity is an important need to serve every day standard living of people and to serve the process of other fields of national economy," Prime Minister Hun Sen said. He added that the stability of enough and cheap electric supply is a catalyst to push ahead development of other national economic fields.
The station began the refurbishment in April 2001 and finished in May 28, 2002. The project cost about $ 26 million, principally funded by CETIC, a Chinese investment company, said Chan Sodavath, M.Eng, Acting Executive Director of Corporate Planning & Projects of Cambodian Electricity. This hydroelectric plant can be used a whole year: in this time it can produce about 53 million kilowatts, he said. According to Minister of Mines and Energy His Excellency Suy Sem, the agreement of investment that signed and gave the concession to CETIC Company for 30 years. The price of selling electricity from Kirirom I hydroelectric to Cambodian Electricity is in two steps. First 12 years, the cost at $ 0,07 per one kilowatt and then the next 18 years one kilowatt cost at $ 0,0617. Today, in Kampong Speu province the new network for delivering electricity to the users being constructed.
" I cannot say how much it costs per one kilowatt right now, it would cost higher than Phnom Penh, but after the new network finished I hope that the price per one kilowatt will cost the same as in Phnom Penh one," said Chan Sodavath. The project will provide a clean and efficient power source that if correctly maintained should last a long time. With water in such great abundance this could prove to be the way forward to meet the energy needs of the kingdom.
Bus Billboards
Ho Wa Genting Bus Company has finalized a deal to utilize their buses as billboards. (Cambodia) Co., Ltd won this exclusive contract with the bus company. With over 46 buses covering a vast swathe of the country and even going as far a field as Vietnam, they are about to have a make over. Keep your eyes out around town for the new look buses. Of course anyone interested can contact us for details.