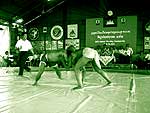 This was the first time that an official Khmer traditional wrestling championship had been held under the support of MoEYS. This first in wrestling history was held by the Cambodia Amateur Wrestling Federation at Club BAKSEI CHAMKRONG, Phnom Penh, on 15 -16 June 2002, and attended by His Excellency Bou Chum Serey, Under Secretary of State, MoEYS.
There were 53 wrestlers -- 8 of whom were women. The event was a mixture of both Khmer traditional forms and modern wrestle as well. The contestants came from clubs across the country. The Club BAKSEI CHAM KRONG (Phnom Penh), the Club OLYMPIC I (Phnom Penh), the Club OLYMPIC II (Phnom Penh), the THMOR KEO Association (Pursat), the ROUTHISEN Association (Kampong Chhnang) and the CHAMBABB Association (Prey Veng) attended the event and submitted wrestlers.
There were two types of wrestling championships: traditional and modern, in this first ever held National Wrestling Championship. The Khmer traditional wrestlers aim to throw their competitor on their back - if they can wrestle their competitors and make the competitors' back touch the ground for just a short period, they will be the winners. But the modern wrestlers consider the entire fight and it is on their techniques that they gain scores.
Wrestling had been sculpted on the walls of temples, showing that Khmer ancestors had held wrestling championships a long time ago. Since then Khmer people always wrestle during Khmer New Year, Pchum Ben and some other happy occasions. It is a unique part of the culture of the kingdom and a great spectator sport. "We must keep our heritage of wrestling alive" said H.E. BOU Chhum Serey.