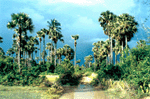 The Palm Tree, known better in Khmer as Deum Tnort, is seen in every corner of Khmer territory. Some Khmer people believe that the Deum Tnort is symbol of the Khmer territorial border. 'Where there is Deum Tnort (palm tree) then that area is considered as being a part of Cambodia'. Inevitably however, reality is somewhat more complex.
The Ministry of Agriculture magazine notes that Deum Tnort grows also in India, Thailand, Burma, Malaysia, and a few other countries in the world. There are two kinds of Deum Tnort. The female Tnort bears fruits that will eventually go to seed. The male does not although it does produce flowers that are shaped like a big candle. When not working in the paddy fields, many Khmers spend their spare time working on their Deum Tnort. Deum Tnort renders many products for Khmer people. Every part of it can produce a variety of useful items. Trump, which is black in color, is used as wood to construct shelters or to build boats. Some kinds of mats hats fans or the roof of most Khmer houses are made from Deum Tnort leaves. Its fruit is edible and can be used as a vegetable or for making cakes (when the fruit become ripe). Ropes can be made from the part of the tree called Keuv. Other parts of the tree are used to make traditional medicine and its flower can be made into sweet and alcoholic beverages. "I spend about one week to prepare those flowers to get nectar. After that I start getting nectar every day. I can get nectar every season if Deum Tnort bears flowers but the best time is in the dry season, especially in March and April when I can get more nectar than other times." Mr. Ou Oeurn, 48, a nectar maker in Dorng Kor district said. He noted " I get around 15 liters of nectar every day from a single Deum Tnort and female trees give more nectar than the male plants." Mr. Oeurn, holding his bicycle carefully with the full bamboo containers on it, said that he drives into Phnom Penh every day to try and sell about 30 to 40 liters. The sweet or sour nectar is cheap at a cost of only 500 riel per liter or 1000 riel per bamboo container. It's an inexpensive beverage to have and you are guaranteed a happy time with your family or your friends. Sometimes nectar can cause diarrhea if it is not prepared carefully and well, or it is mixed with unsafe water. There are several places where this nectar is sold. A well-known place is one along Russian Confederation Blvd next to the Royal University of Phnom Penh Building on campus II. Because it's on the road to Pochentong airport, many people call the sour nectar Pochentong Beer or some people call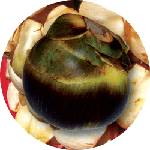 ko kho kor (k x K) beer or Chorntheang beer (to step on the midrib of palm tree), but some refer to it as the ___ Beer or ChunTeang Beer. Another place to purchase this beverage is along national road No 2 on the way to Phnom Ta Mao zoo. "I like to drink the sour nectar because it keeps me healthy; on a hot day sour nectar keeps the temperature in our body low but to over drink is not a good idea!" said Mr. Phorn, 57, a villager of Kompong Chhnang province. But an old woman of the same village, Mrs. Chann, 60, gave an idea that sweet nectar mixed with cold rice in the morning is delicious! Her experience is that this provides a very nice breakfast for her. "Sometimes my nectar is bought to export to the United States. The customer puts a piece of chemical in the nectar and then they can keep its quality for about one to two weeks." Mr. Chan, 49, a nectar maker from Kompong Cham said. Nectar has two tastes, sweet and sour. The natural nectar is sweet but it can be changed to sour alcoholic nectar. Sweet nectar can be dried and made into red sugar. Vinegar can be made from sour nectar. "70 liters of nectar can make about 7 to 10 kilos of red sugar. The amount of sugar depends on how sweet the nectar is" said Mr. Sath Oun, 36, an old hand of sugar making in Praseth, Oudong district. Mr. Oun also pointed out that the nectar from trees that are grown on less fertilized and less watered soil is sweeter and nicer than those that are grown on more fertilized and more watered soil. No one knows the exact number of Deum Tnort in the country but it is estimated to be well over 3 million. A strong healthy tree can grow to a height of up to 20 meters with thousands of small roots supporting it strongly. Whatever the height, some Khmer elders advice their children not to climb the palm trees during or after a rainfall since they can slip and fall down easily. Mr. Sath Oun said a palm tree could survive two or three lifetimes of a human being. He noted that he and his father have climbed the same trees. With his 70 year-old father still alive it is likely that Mr. Oun 's son will climb the same tree too. To climb up to the top is not easy and if the climber is careless or is drunk they can easily have an accident. Some people use bamboo to support their climbing and some others do not. However one person can climb and tap between 20 to 40 Deum Tnort a day. There are no palm tree farms in Cambodia. Deum Tnort grows throughout the country but the most productive areas are Kompong Speu, Kompong Thom, Takeo and Kompot. It grows best in an area with a wet climate. The government announced that the cutting of palm trees is the cutting of the Khmer soul and destroying oneself. The future of the palm tree in Cambodia is uncertain; they may even face the danger of extinction if people keep cutting them down. If one Deum Tnort is cut down every day it could mean the future Khmer generations will only know Deum Tnort from pictures and not the real trees.