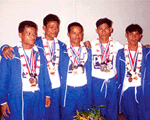 Cambodian Disabled Athletes Did Well in Malaysia Games
A team of Cambodian disabled runners came back with 13 medals from the Area Para Games in Malaysia. Competing against contenders from nine other countries, these athletes brought fame and glory for the Kingdom of Cambodia. The other members in the team are three men who have also lost their right legs, Chim Phan, 31, Kim Vanna, 29 and Sak Oung, 30 and Ouen Cheik, 25, who has lost his left hand.
Our tribute to these champions brought home six gold, five silver and two bronze medals. This reflects the effort of the runners and the Federation as well. "We constantly prepare ourselves to be in better condition", said Yan Sorkun, who serves on the executive committee of the Asian Para Sport Federation. Orn Sok Eng, 29, who lost his right leg when he stepped on a land mine in 1990, has won several medals in his career, including two gold, a silver and a bronze medal. The other members in the team are three men who have also lost their right legs, Chim Phan, 31, Kim Vanna, 29 and Sak Oung, 30 and Ouen Cheik, 25, who has lost his left hand.
Khmer Durians
Although the durian fruit has somehow or other managed to stay available at fruit stores all throughout the year, this month saw a great influx of the fruits from even across the border of Thailand. It is the "Durian Season". Just about every corner in every street in Phnom Penh are stores (most of them are opened only during this season) popping up with heaps of the durian fruit being snatched away by people with a craze for the king of all fruits. Especially near the roundabout of the Olympic stadium are rows of fruit stalls lining the thoroughfare and concentrating only on selling the fruit. At night, the scene is a beautiful one with lots of bright lights and people bustling from store to store looking for a bargain. Sok Poa, a seller near the roundabout, said that most of the durians are from Kampot province and these are very good; far better than those expensive imported ones. The going price for the moment is between 2,000 and 3,000 riel for a kilogram. If you haven't yet acquire a taste for the durian and would like to have a go at it, visit the roundabout near the Olympic Stadium at night-you'll get to enjoy the scene and take in the aroma of the king as well.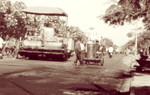 Roads Being Repaired
While the country is developing in other sectors, a few of the roads around the country are being repaired and developed. Municipality of Phnom Penh is repairing a few roads in Phnom Penh "to welcome the forthcoming Asian Meeting in November", said Nhem Saran, director of Municipal Public Works and Transportation. The roads enjoying the face-lift are Russian Federation (road to and from the Pochentong airport), Mao Tse Toung, Prah Soramaridh, Sotearos and Norodom Blvd. Street 355, 271, 184 and a few other smaller ones are being fixed as well. Job has started since earlier part of the year and should be completed by November, he said. "Right now, we have already finished about 50 percent of the job".
Phnom Penh Water Park
A new place for People who love swimming and playing in water is up and now opened to public. Aptly named the Phnom Penh Water Park, it is situated on the right side of the road on the way to the international airport. Built at a cost of about S$2 million the complex has slides, powerful jets, fountains and modern swimming pools. The place was declared open on April 06, 2002 by Senior Minister Sok An. The park is opened every day from Mondays to Friday starting from 12:00 noon to 6:00 pm and on weekends, from 9:00 am to 8:00 pm. Locals need to pay only $5 per person. On top of that, for every 5 people visiting the park, one person gets to enter free. For foreigners, the price is $7 per adult person and $5 for those standing below a meter in height. No discount for number. "The sea is too far away," Khy Pisith, 22, a businessman who visited the park. "I come here every week and I feel very happy about it. Its like being in the sea, I can do exercise all the same and I pay only $5 ". "They spend only $25 for six people and they feel safe and happy. No need to take a long driver to go to the sea," said Chan Pov, a park official. The park can accommodate up to between 2,500 and 3,000 people.