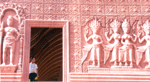 Kandal is at the heart of Cambodia in fact, the word Kandal means central. It surrounds the municipality of Phnom Penh, and is itself bordered by Kampong Speu, Takeo, Prey Veng, Kampong Chhnang and Kampong Cham, with a tiny sliver to the south directly bordering Vietnam. The province supplies the bulk of Phnom Penh's fruit and meat, especially beef, and is famous for traditional silk and cotton weaving, silversmithing and fine stone and wood carving. Kandal is one of the most heavily populated provinces, with an average of about 300 people per square kilometer. The national average is 64. This is nearly 10 per cent of Cambodia's total population. There are 11 districts, 147 communes and 1087 villages in Kandal.
Kien Svay and Koki Beach
Kien Svay district, about 19 kilometers from Phnom Penh down National Route 1 towards Vietnam, is a particularly pretty district of Kandal. Off to the left is a sign indicating Koki beach, a famous beach area among Khmers, although not exactly what foreigners would call the area.
Koh Dach
Known to some foreigners as Mekong Island, this sleepy little island is just minutes away from Phnom Penh by boat, but light years away in atmosphere.
Phnom Reab
Travel along National Route 5 for about 20 kilometers to a bustling little market on the left of the road called Psar Prek Pneuv.
Phnom Prasethi
Two mountains rise above Phnom Reab. These are called Southern Phnom Prasethi and Northern Phnom Prasethi. On Northern Phnom Prasethi stands the sixth century temple of Prasat Neang Krub Lakh (Temple of the Ideal Girl). A huge statue of the Buddha attaining Nirvana is located here at about 27 meters in length.
Phnom Saang
A pretty mountain formed naturally out of rocks, Phnom Saang is located in Saang Phnom commune, along Road Number 21, 33 kilometers from Phnom Penh. The pagoda on top of the mountain, Wat Saang Phnom, was destroyed during Pol Pot time but restored in 1979.
Thorn Morn Pagoda
Four kilometers before the gate to Phnom Saang, on the Hun Sen Development Center street, Kraing Yov, a small mountain appears. Covered in lush forest, this is an attractive place, and at the peak is Thorn Morn Pagoda with its sacred cow statues that people travel to worship.
Mekong Village
An artificial lake is the centerpiece of this charming little resort 40 kilometers from Phnom Penh down National Route 1.
Oudong
Probably the crown jewel of Kandal province. See our special feature on page one to find out more about the former ancient capital. Just north of the Prek Kdam ferry crossing on National Route 5 are signs leading visitors to the silver smith villages at Kampong Loeung.