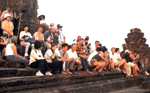 The Tourism Network
Help us to serve Our guests with Sensitivity and concern Providing for their requests Inspired by their needs Transmitted through their words Always looking for better ways to Lighten their burdens and Improve conditions for them as they Travel through life and Yearn for the best
From its simple origins as privately owned, independently operated business, the hospitality industry has grown in complexity and size. Today's hospitality businesses interact with one another on a global basis, and are aware of world wide as well as national trends in their markets. For example, management companies and hotel chains are now multinational. Economic conditions in the USA, Japan or Singapore may affect a company's holdings in Australia or Cambodia. The affairs of hospitality industries are closely intertwined with those in the travel and tourism industry. Tourism is travel for recreational purposes and the business of promoting and arranging such travel has created a multi-billion dollar industry.
The tourism and hospitality industries so closely affect each other that many within the industries combine them and view them as one large industry. The components of this large industry include food and beverage services, lodging services, the providers of recreational activity services, travel related (tourism) services, and products provided with personal services in conjunction with the first four components. We might describe the united industry under the hospitality banner with this simple little poem. Cambodia is obliged to strive to move forward in this sector and to meet the demands of international as well as local tourists at a level comparable to other nations in this globalized environment.
Visit Cambodia Year 2003 and the ASEAN Tourism Forum to be held in Phnom Penh in January next year put even more pressure on Cambodia to meet this challenge. The Kingdom is now part of the global tourism network.