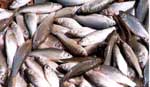 Ly Dara watches the catch he has just bought grind its way through the crushing machines at a little shop in Kilometer 11, north of Phnom Penh. Once a soldier, Ly Dara's whole business centers on this time of year from December or early January until the last full moon in February-or early March when fish migrate up the Tonle Sap and Mekong rivers and provide the raw material he needs to create the Cambodian staple, prahok. All along the river banks at several spots like this around Phnom Penh, and thousands more around the country, women especially are washing and crushing small fish with their feet in bamboo stalls, chatting and laughing as they take time away from the rice fields to make enough prahok. for their amities to see them through until next year.
Prahok, or fish cheese as foreigners sometimes know it, is a crushed brown paste of fish, salted and fermented to preserve it. It is an acquired taste, with a strong aroma that permeates everything it touches. Ly Dara is a prahok wholesaler, and he has made this annual journey especially from his home in Bati district, Takeo province.
"I've already processed 10 tons of prahok this season. Last year it took me four days to get enough fish for this amount. This year, it took me just one night," he said. "I'm getting it crushed here and loading it into taxis to transport it back to my place."
Across the way, members of 20 neighboring families from his home in Poun Phnom village, Trapaing Sam commune, are gutting, scaling and cleaning their fish by hand before trampling them underfoot. The sheer volume Ly Dara must process makes the machines set up near the road here a good option. But this is only the first step in a long preparation process. "We use 150 kilos of salt per ton of fish. Last year, fish cost 250 to 300 riel per kilo and salt cost five to six hundred riel a kilo. This year, fish is cheap. I've been buying fish from the riverside for just 130 to 180 riel a kilo and salt at 140 riel a kilo," he said. The best catches are made during the full moon. "After we crush them, we leave them in the sun for a full day, then salt them and seal them in jars full of salt," he explained. Prahok can then be eaten after just 20 days of maturation, but the better prahok has been left to ferment for one to three years.
"A lot of Chinese and other foreigners don't like prahok, but my father was Sino-Khmer. He told me that the first time he tasted prahok, he loved it and he wished he had eaten it sooner," Ly Dara said. From that moment, his father's passion meant his own course in life was set out.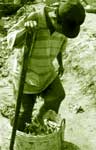 There are Khmers who don't like the strong taste and smell of prahok, but most have been brought up on this very Cambodian delicacy. The larger the fish used to make it, the better the quality of the prahok is generally considered to be. Some regions, such as Siem Reap, are particularly famous for their prahok and can demand higher prices from connoisseurs of the product. Prahok originated as a way of preserving fresh fish during the long months when this other basic Cambodian food is not in abundant supply. The high salt content made it an ideal flavoring ingredient in the days before MSG and seasoning powder arrived in the Kingdom. In the countryside, prahok is often eaten simply with rice. But a typical Cambodian meal will often include prahok as an ingredient in samlor, or soup, or as a dipping sauce, such as teuk kroeung, which is eaten as an accompaniment to grilled freshwater fish wrapped in lettuce or spinach leaves. Khem Kan is 70 now, and retired from his position as an official in the Ministry of Commerce. He comes to the river to buy fish to make his own prahok.
During the waning moon, the catch decreases and the price rises to as much as 800 riel a kilo, but he isn't worried. That is still cheaper than at the same time last year. "The only time you should not eat prahok is if you have a cold, a cough, or a skin condition like acne. Prahok can make these things more serious," he said. "Singers often boycott prahok before a big performance to help their voices." Director general of the Fisheries Department of the Ministry of Agriculture, Nao Thuork, estimates about 500 species of fish migrate up the Mekong in preparation for spawning in the wet season. "About 350,000 tons of fish were caught this season just past, and about one tenth of that will be processed into prahok," he said.
All freshwater fishing is now banned between May and September to give fish a chance to lay their eggs, so people make the most of this season. "Many of the larger species are no longer found here in Cambodia. Once, we used to catch only large fish and let small ones go. That was when we had just six million people to feed. Now we have 12 million, and people keep everything they catch, large or small," he said. In Samrong Yong market, Bati district, prahok seller Mr Chreb is gearing up for a big year. "It is easy to make money with prahok. About 95 per cent of the population eat it. Charities and non-government organizations have been known to buy it to donate to flood and drought victims, and I like this idea. I know most Khmers would be much more grateful for a couple of kilos of prahok than tins of sardines or dried noodles," he said.