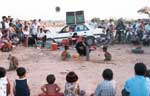 There's excitement in the air at the small park near Naga Casino on the Phnom Penh riverfront. A drum is beating, and without any further announcement, people flock from everywhere. The Pahee are here, and Cambodians know that free entertainment is at hand. A square has been pegged out, and two monkeys have been chained to the edge of the square. Now a man starts to speak, and the crowd are only too willing to gather in to hear him better, children on the inside, older people on the outside, a crowd of curious motodops nearby. Hai Hok Leng begins working his magic. He draws a line in the dirt, and with a flourish, stands back. The line in the dirt has become a live snake. He moves again, covering the snake, and when the crowd next catches a glimpse, the snake has become a duck. A piece of paper becomes money in his hands. Nearby, one of the watching motodops called Saroeun shakes his head and laughs. "I know this isn't true what I am seeing, but it cheats my eyes and so I must believe it," he says.
"I watch out for the Pahee and stop to see their show, because their play always makes me happy and I'm never bored when I watch them." A handful of grass is transformed into noodles as Mr Leng and his 14-year-old son, Chantha, set up a non-stop banter of jokes and one liners that has the crowd howling with laughter. The monkeys, a female with no name and a big male called Alain Deleon, are brought from their corner seats and proceed to dance on command and walk about on their hind legs, towering over the youngest children who have squeezed through to vantage points at the front of the scrum. "Have you ever seen anyone fish on land?" Mr Leng asks the mesmerized crowd, and from nowhere, a catfish is flopping around in the dust. Pahee is an unofficial tradition in Cambodia. Although this form of performance is not one endorsed by the Ministry of Culture and Fine Arts, it has survived as well as many of the more formal arts in Cambodia and today is a flourishing business for the Leng family. Mr Leng learned his trade from his father, and his father from his father. His wife Saly, 37, married into the Pahee family, and now she acts as drummer, summoning the people and keeping the spirits the very superstitious Pahee family believe reside in the drum happy.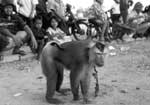 Before every performance, she offers gifts of eggs, rice and candles to the kru, or teacher, spirits of the drum. The drum is integral. It calls the crowd, and it is a voice for the spirits. It must never be hit with both drumsticks at once, or treated with disrespect, or the crowds may stop coming, too. Despite their piety, in another country the Leng family might be labeled snake oil sellers, for there is a point to all this conjuring and Mr Leng is just getting warmed up. "Now ladies and gentlemen, here I have a unique herbal remedy which is guaranteed to keep your skin beautiful. Do you have pimples, perhaps a mole? Any blemish, any skin problem, this powder can correct," he cries. "It cures, it stops, it improves-it smells very good. Just add lemon juice and apply and all for 500 riel a packet. And a special offer for the first person to buy. Just put your hand up and buy one packet and I will give not one free packet but two free packets away to you. Three packets for 500 riel." Within seconds, someone has their hand in the air and Chantha is collecting money and handing over traditional cures. There are drops to cure toothache, powders to prevent stomach ailments, and solutions to cure ulcers, to rejuvenate the liver, to stop coughs, colds and high temperatures. "Don't take alcohol or eat fat or chili when you take this one," Mr Leng warns a buyer when handing over a package of herbs for yet another ailment. "And never administer this one to children under six months old. It is powerful medicine." Leng is just 35 years old. Although the group spends a lot of time in Phnom Penh, they are originally from Kampong Cham and travel, gypsy-like, wherever the wind blows them.
In a year, they might play in Siem Reap and Battambang, Ratanakiri, Kratie and even Pailin, taking in every corner of the Kingdom, family and props inside and monkeys on the roof of their faithful old Toyota. "There are a few things you must be able to do to be a successful Pahee troupe," Mr Leng said. "They are the components of put (making the audience believe), por (making the audience happy) and kokhork (to be able to draw interest from the crowd and maintain it). The show is to get the audience around to buy the medicine, so you have to be able to talk non-stop, always throwing in jokes, proverbs, tricks anything to keep the people around you." Sometimes the Hai Hok Leng Pahee Group is hired for shop openings or other events by proprietors wanting to increase their sales through the skilled act of the Pahee masters on the doorstep. "Our fee is 200,000 riel (about $50) for this service," Saly said. "We attract people and get them customers at the same time. We do this fairly often."
Pahee is classed as "popular entertainment" by the Ministry of Culture and Fine Arts-certainly not a classical art. There are no bas-relief carvings on the walls of the Bayon Temple of anything like Pahee, unlike Khmer dance or even Khmer circus. These are the favored sons and daughters of Khmer cultural experts. In fact, because no one studies this strange combination of showmanship and commerce, no one knows the origins of Pahee. A Ministry of Culture spokesman said his department had never undertaken any research on Pahee as it was "not professional". There is a good chance, however, that it is a Chinese tradition that has been adopted by Khmers over the centuries. Many Khmers consider the word "Pahee" to be a corruption of a Chinese word. Even Mr Leng cannot say how this brand of street circus hawking evolved. It has been his family's destiny for so many generations, why they began and where their art came from has been forgotten. But the lack of official endorsement doesn't worry Mr Leng. He makes a good living, and he is proud of the skills he has acquired to be successful in his job. "I became a Pahee performer because I love it, and because it is a business. I live from what I make from my performances," he said. There are no schools that teach the mixture of knowledge of traditional medicine, acrobatics, clowning and conjuring that a Pahee master must know to be a true exponent of the art. Only Pahee can hand down their Pahee tradition, so most of them are family groups. "We have taken on students before. They pay us about $200 a year and we teach them the basics but a good student will be a natural," Saly said.
"There is no way to learn this if you don't have a natural aptitude and you can tell quite early on who will be good and who can never be Pahee," she said. There are perhaps six Pahee groups working in Cambodia at present. Each has a circuit of provinces and towns they frequent. The Pahee are wanderers, and do not stay in one place for long, so many more troupes than this would begin to take business from the rest and eventually even kill the trade. The medicine Mr Leng sells is not Khmer, but made to Chinese recipes. The Ministry of Health view Pahee performers with more than a touch of skepticism, but the National Center of Traditional Medicine, which is a part of the ministry, is reluctant to condemn it outright. "I can't tell which traditional medicines are good or bad because we haven't controlled them yet," administrative chief of the National Center of Traditional Medicine, Mr Suon Sam Oeun, said. "I mean, there is a law in place but we do not have the resources to enforce it at present. Khmers have used traditional medicines for a long time. In Angkorian times, the Neak Poan temple was the seat of traditional medicine. "I believe in the benefits of traditional medicines, but some can be potentially dangerous and some people who are not qualified mix modern medicines together that should not be mixed, or in bad quantities, and call the final product a traditional medicine," he said.
"I cannot say if one particular Pahee troupe is good or bad. Many Khmers use traditional medicines and believe in them. They work for us. Occasionally, someone will have a problem like stomachache or swelling up. That might be bad medicine, but there are professionals and fakes in every vocation." Mr Leng swears by his products. He has taken them himself, he says. "I believe in what I do. I do not like to say someone else is good or bad. I can only say for me, but I suppose there are good Pahee and bad Pahee," he said. The show is wrapping up. The monkeys are once again chained to the back of the pickup truck and balance on the roof of the battered sedan atop the paraphernalia of the Pahee the ropes, the signs, the medicines, the drum. The crowd has already drifted away. Tomorrow the Leng family will head northeast more than 100 kilometers to Kampong Cham and perform all over again. And the next day? "The next day depends on business and the way we feel. We will see," said Mr Leng.