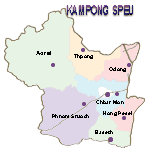 Kampong Speu, west of Phnom Penh and almost on the capital's doorstep, is a province often overlooked, but an ideal place to get off the beaten track. Speu is the Khmer word for starfruit, but Kampong Speu is actually famous for its palm sugar, considered the best in the Kingdom. It also produces plenty of teuk t'not chu, or palm wine. Cambodia's tallest mountain located in this landlocked province bordered by Kandal, Koh Kong, Pursat, Kampot, Takeo and Kampong Chhnang. That is Mount Aoral (Phnom Aoral) at 1813 meters above sea level. There are eight districts in Kampong Speu, divided into 89 communes and 1,319 villages, and 5.2 per cent of Cambodia's population lives here. Kampong Speu town is less than an hour from Phnom Penh down National Route 4__the road which eventually takes you south to Sihanoukville.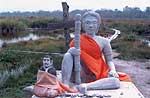 Teuk Phoh
Although not a volcanic country, Cambodia boasts hot springs, high in the foothills of Mount Aoral. These are called Teuk Phoh, which means water emerging. The water is hot enough to boil an egg, and not deep enough to swim in, even if it was possible, but it is a peaceful spot. This place is becoming increasingly popular with Phnom Penh people as a place to relax on weekends, and vendors at the site can supply you with cold drinks and fruit, although most Khmers bring their own picnic lunches with them.
Amper Phnom
(Small Mountain)
If just relaxing and spending a quiet day picnicking and strolling by the river sounds attractive, this quiet little resort of might just be the ticket. About five kilometers before Kampong Speu town, turn left down a small road road signposted in Khmer and English.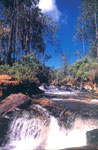 Kirirom National Park
Kirirom means "happy mountain" and this beautiful national park area 85 kilometers from the capital off National Route 4 was once a favorite resort for the influential, the powerful and wealthy and a retreat for King Sihanouk himself in the 1960's.A large new concrete sign on the right as you drive from Phnom Penh to Sihanoukville makes finding the turnoff very easy. The road rises steeply but is paved and in quite good condition. There are not many types of larger wildlife in evidence on Kirirom, but it is an ideal spot to glimpse some of the Kingdom's unique birdlife and birdwatchers even come from overseas to visit. Park rangers charge foreigners a 20,000 riel ($5) entrance fee.
Cambodia Golf and Country Club
Just over the border of Kandal province from Phnom Penh, a huge billboard and manicured entrance on the left proclaims one of Cambodia's premier golf courses

Yeay Mao Shrines
(Pich Nil)
The road to Sihanoukville cuts through a mountain pass at about the half-way point, just after where the air-conditioned buses break their journey. At the point where it rises, called Pich Nil, a row of colorful shrines and spirit houses appear. These are dedicated to the powerful neakta, or deity, Yeay Mao (Grandmother Mao).