AUSSIE WINE BAR OPENS
Phnom Penh now has its first wine bar, with the opening of Rubies, at the corner of streets 19 and 240, near the southwest corner of the Royal Palace. The idea was the brainchild of Australian graphic designer Tahli Shepherd and is even more extraordinary for Cambodia as it specializes in quality Australian wines by the glass or bottle and currently stocks about 40 labels. "The historical background of Cambodia means that wines available here are predominantly French but Australia produces some of the best wines in the world," Ms Shepherd said. "I wanted a bar where I could sit and have a glass of really good Aussie wine at a reasonable price in a chilled, laid back atmosphere.
"We have had tremendous support for Australian vineyards in setting up. They've seen the potential market here, too. They've been great." Rubies, which occupies the ground floor of a French colonial building, will also stock cigars and serve beer, spirits, soft drinks, tea, coffee and nibbles. Opening hours are 5pm until late, Wednesdays to Sundays.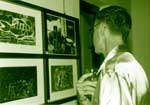 ART EXHIBITION A HUGE SUCCESS
An exhibition of work created by Cambodian art students during a five-week workshop has proved an outstanding success, with more than 50 of the young artists' pieces sold and universal acclaim for the high standard reached. The Open Window exhibition, held at Java Cafe on Sihanouk Boulevard from early last month, showcased about 100 works by 35 Level I, II and III students from the Royal University of Fine Arts (RUFA). The works were predominantly prints and styles ranged from abstract to sharp outlines of black and white statues. The work was created during a workshop with English artist Sasha Constable. "I'm obviously very proud of all of them and very happy that they received such great support from the people who came to see the exhibit," Ms Constable said. "We wanted Khmer people as well as expatriates and tourists to come and view the work and that happened so I think this is a very positive sign for art in this country on all counts." All proceeds from work sold was split between the artists and RUFA. Ms Constable's own work is currently on display at the Visitor's Center at Preah Khan.
MONUMENT BOOKS MOVES
Cambodia's premier retailer of new books and periodicals, Monument Books, has moved their Phnom Penh office. The company opened its doors for business at the new 111 Norodom Boulevard address, near the corner of Street 240, at the end of January this year. The opening of the new office was a gala affair, attended by guests that included respected authors, leading business figures and dignitaries including Phnom Penh Governor Chea Sophara. Monument Books is the leading distributor of new books and magazines in the Kingdom. Outlets include Pochentong and Siem Reap airports, as well as the Foreign Correspondent's Club, Cambodia (FCC) and many of the leading hotels in the capital and Siem Reap. However, this new office will serve as the company's main retail outlet nationally.
Bookworms now have plenty to choose from and browse through in the area. Leading secondhand bookseller, London Books, also moved recently to a new location within a few doors of its old address and is within walking distance of Monument's custom-built store. London Books is located at House 51, Street 240 and stocks as many as 10,000 books. Leisure is sold at both outlets. Monument Books may be contacted on 023 217 617. London Books is on 023 214 258.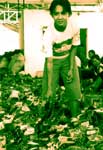 ROLL UP, ROLL UP!
A craze that has swept Cambodian streets over the last couple of years has now gone up market with the opening of a new roller skating rink in the heart of Phnom Penh. Club Thida, near Naga Casino and opposite Samdech Hun Sen Garden opened on January 7 this year and has quickly become a popular meeting place for young Khmers. "We open at 8am and go through until 10pm, seven days a week," said club owner, Ms Yu Sokunthea, 20. "I think we are doing something important. We give people a place to exercise. About 100 people a day visit the rink mostly men. They range in age from seven years old to 20 and sometimes even older. "We don't limit the numbers who can skate at one time." Costs are low. The rink charges 2000 riel for roller blade rental and 3000 riel for roller skates. Those lucky enough to have their own skates can skate to their heart's content for just 2000 riel (50 cents) per hour.
MILK FRUIT READY
Along the road southeast of Phnom Penh heading towards Kandal and Takeo provinces, a strange fruit packs roadside stalls, hanging in white or purple clusters. These are plai teuk-doh koh, or milk fruit. These unusual fruits come into season in November and are usually gone by mid-March. Their sweet white flesh, said by some Khmers to taste a little like congealed milk, is probably what gives them their name, although the skins of the young fruit oozes a milky sap when cut. A cluster of a dozen costs between 4500 and 6000 riel, or around a dollar to $1.50. Vendor Mao Chann Bophal, of Takdol commune near Takhmao town, Kandal province, said some clients had told her they believed the fruit was unique to Cambodia, although others said they had seen it in neighboring countries, if only rarely. Mr Chieng Ratanak, Vice Director of Kandal Provincial Tourism Service, said there were good reasons why milk fruit was much rarer than other fruits such as mango or jack fruit.
"Despite it being a great favorite with locals and most of the foreigners who buy it, growers don't plant this tree widely as it takes one tree seven to eight years to mature and bear fruit and the surface root system takes up a lot of land, preventing any other crops from growing beside it or near it," he said. "However, some families in certain districts of Kandal like Kien Svay, Kandal Steung and Koh Thom like planting a couple of milk fruit trees in their village because they grow up to seven meters tall and provide a lot of shade. Even with a good yield, though, growers can only make 80,000-120,000 riel ($25-$35) from one tree annually. The size and shape of an orange, milk fruit is either purple or white. The skin of the white fruit turns gradually brown as it ripens. The white is the most popular with locals.
Chinese NEW YEAR
Chinese and Sino-Khmers welcomed the Year of the Horse last month with dragon and lion dances and a week-long volley of firecrackers, widely ignoring a longstanding ban on bangers. The Chinese are major players in Cambodia's commercial economy. A Chinese envoy to Cambodia in 1292, Chou Ta-Kuon, reported that Chinese had lived in the area since the time of Chenla, the dynasty that preceded Angkor. The Chhiv Ith, or first day of the New Year, was celebrated on February 12. Traditional Chinese and Sino-Khmers are prohibited from doing anything on this day, including washing clothes or sweeping floors for fear of bringing bad luck upon themselves for the coming year and most sit at home with family. The Chhiv Yee (second day) and Chhiv Sa (third day) are days for having fun, going to the temple or, for some, resuming work. Many believed ignoring the firecracker ban was worth the risk to please the incoming horse gods of the New Year, or at least understood why others would.
"To set fire crackers off covers the ground in red paper, and red is the color of celebration and luck in Chinese culture," one Chinese teacher at a temple in Takhmao, Kandal province, said. "Setting off fire crackers is a way of congratulating the new god," said Mr Chan Bun Thorn, owner of Apsara Bakery on Kampuchea Krom Boulevard. "Dragon dances outside businesses bring good luck and happiness. Putting flowers such as plum or ankear sil in front of a house or shop will make business grow like its flowers, and without flowers there can be no fruit. "And tangerines keep families and businesses together as strongly as the shape of tangerine. Sugar cane makes business grow like cane and kantim (pomegranate) scares ghosts and bad spirits from people's lives," he said. Chinese New Year coincided