Across the road from Psar Toul Tom Poung, or the Russian market to foreigners, a little oasis of greenery fronts a jumble of coconut woodcarvings, silk lamps and wall hangings. This is the main Rajana shop- a small business that rose out of nothing more than a few hundred dollars, philanthropy and the will of a small band of Cambodians to do something for themselves on their own terms.
The whole micro enterprise began back in 1995. "I'd been living in a border camp in Thailand from 1991 to '93, and when I came down to Phnom Penh, I recognized a lot of faces from there," says founder Marie Hill, of the non-government organization South East Asian Outreach. After living in the refugee camp, many of Ms Hill's friends had been repatriated to poor villages in the countryside. Many of them were orphans; others had come to Phnom Penh in the hope of finding jobs because there was little for them to earn money from in the villages. None would have any chance to finish their schooling. "They were telling me they wanted to do something but they had no skills or training to find good jobs," she says.
There wasn't a lot of funding available, but with US$800, Ms Hill began what she thought would be a small skills training center in the downstairs section of her house. "It was a very small shop. We started off making greeting cards. Those early ones were pretty ugly really but we got good support from humanitarian and church outlets. They heard what we were doing and came to buy from us," she says. The designs quickly became more and more sophisticated. The Khmer trainees learned to read the market, and understand what sold and what standards customers expected. The staff consisted of two managers and three trainees who also learned computer skills, English and accounting. Although small, it was succeeding in its mandate to provide income for young, disadvantaged Cambodians, to provide skills training, to revive Khmer craft and encourage cultural expression through art, to give opportunities for personal development and to give exposure to Christian ethics in the business and personal lives of the participants. And more small grants followed, from the Anglican Church of Singapore and Spring Harvest.

They used the money to buy equipment, particularly for silver smiting. "We wanted something that required a small outlay and returned good profits, and something that the boys could learn and feel happy doing," Ms Hill says. All the staff was young-most between 16 and 17 years old. SKIP, an NGO dealing with orphaned children, brought new members to Rajana to train. Before long, Rajana was exceeding Ms Hill's wildest expectations and with the skills they had learned, the young trainees wanted to stay and turn the training center into a business. From greeting cards, they branched out into silver smiting as planned, then silk crafts and decorations. The group started to form associations with other Cambodian NGOs and families in villages, swapping ideas and marketing products for them. Rajana had turned into a fully fledged business concern. Around this time Ms Hill met Chhoeun Vuthy, better known as Seng. He was a cousin of a driver Ms Hill used and was living in the family house in his home village. "She asked me if I wanted to learn how to be a silver smith. I said yes and I studied for six months,"
he remembered. A born manager, Seng quickly became the head of the silver smiths and continued to learn and grow. Now Seng is director of the Street 170 shop. At the end of 2000, SAO assistance stopped and Rajana became an independent, self-sustaining association, with people like Seng running operations. "There is a group of us to ensure there is no chance of corruption. This system runs well and we have not forgotten the aims Rajana started with," Seng said. That means when Rajana people go to the provinces to buy off local suppliers, they do not grind villagers down to the lowest price.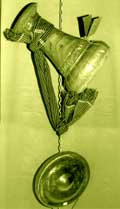 "If we can afford it, we pay them more than they are asking. We always pay a little bit more than market price, because the aim of Rajana is to help Khmer crafts people. That means helping everyone, even at the bottom of the line," Seng said. That goes for clay pots from Kampong Chhnang, some of which Rajana has made especially so they can decorate them and fill them with Cambodian turmeric and lemongrass. "These particular products are a popular one with tourists," Seng said. And it applies to the villages near Oudong who turn spent bullet and bomb casings into beautiful gongs and key rings that Rajana markets in both its Phnom Penh branches, or the coconut wood buttons and other items crafted by a member of an amputee project.. And to the families in Takeo who makes wind chimes and other delicate items from raw bamboo for Rajana. It even applies to the unique range of Ratanakiri province hill tribe products, which have been made into a distinct section of the main Rajana shop. "We have to make enough to pay rent and wages, but we always pay above market rates. It is our policy," Seng said. They also provide a market for other NGO programs creating raw materials such as the distinctive recycled paper Rajana makes into lamps, cards and other items. Seng said he has watched most of the staff that work with Rajana in Phnom Penh grow up.
"They came here and they didn't know how to clean a house. We give them training for basic business and language and they grow up here. We don't have many people leave us before they are fully trained because they know that this is the best chance they will get to leave the villages and learn and be safe. In fact, most people never leave us and we never force anyone to leave."
Rajana has changed as the market has changed. When tourists began coming back to Phnom Penh, the staff thought of products and designs that could be easily transported overseas. And when silver work proved to be so popular, they adopted modern designs they saw and copied from catalogues. Now the Rajana silversmiths fill large orders for local companies and overseas markets. A few of the early trainees have even left the association to pursue their own successful businesses, something Rajana welcomes, evolving as it did from a training organization. In April 2001 Rajana opened a Siem Reap branch and this branch is expected to operate independently by April 2002.