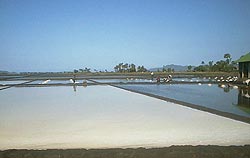 Salt workers are accustomed to braving the burning rays of the sun. While it is their job that makes them slaves to the heat, it is the job's locale that offers relief. Toasty toes may be dipped in the salt fields' cool water whenever the sun becomes too hot to bear. Salt producers in Kampot know and often practice this technique in order to gather the country's salt store. Once the dry season hits the Chum Kreal village of Kampot district's Chum Kreal commune, salt producers gather their gear and head to the fields of salt, which will be dried and piled into tall, white mounds resembling the Alps' snow-capped mountain peaks.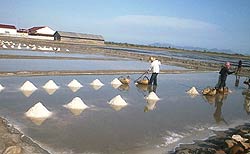 Kampot province is also famous for its seafood and fruit, and is the only place in Cambodia with salt fields. Even seaside Sihanoukville lacks this critical element needed to support the human body. Dr. Rinchee Chivoan of the Bangkok Hospital in Phnom Penh advised that if humans do not take in enough salt through one's daily consumption of food, the body will experience uncomfortable swelling.
Kampot's salt is of a more natural quality than salts produced in foreign countries, since no factories are used in its developmental process.
Three of Kampot's four districts - Kampongbai district, Kampong Trach district and Kep city- actively produce salt from a total of 3,333,741 hectares of land, according to Long Im, Deputy Director of Kampot's Salt Field Organization of Mines and Power Department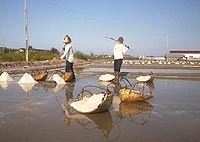 One hectare of salt fields can produce an average of 20 tons of salt per year, producing a total of 80,000 tons of salt for the entire country, Long Im said. This is possible only if the weather conditions are perfect, however. Producing salt highly depends on the weather. The rainy season is never productive, salt field owners have said.
Salt experts claim that the best season to gather their goods lasts from October until April. But even if the weather is good, making salt is not easy, complained Mean Sophear, a salt producer in Skove village, Koh Snar commune, and Kampong Trach district.
We need to have five fields. And we must flow seawater in and out of these five fields. First, we flow water to the first field and keep it there for one day. Then we channel the water from the first field to the second field and keep it there for two days. We keep flowing the seawater to other fields like this (until all five fields have been irrigated). When the seawater is finished, we need to keep it there for two or three more days until then seawater becomes useful salt," Mean Sophear said.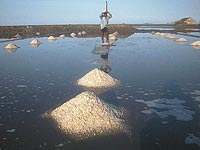 To get water from the sea, salt producers must keep one field by the ocean. Seawater flow continually through this field for approximately one month until the stored seawater reaches a temperature of 25° C. To build the field, farmers must dig deep into the earth and line the hole with sand. It is believed that clean sand makes the best salt. And it is always important to clear the hole of moss and other plant life. Seawater then is poured into the hole.
Noav Sokha is a salt worker in Ompeng village, Nak An Aea commune, Kep city. She agrees that producing salt is not easy, and said that only the most patient people can stand to work under the hot sun in the salty water.
This hard work yields just enough money to keep Noav Sokha's alive, she said. Approximately 4,000 to 5,000 riel may be earned each day. She admitted that more money could be earned if her family owned its owned field. Noav Sokha said that three kinds of salt are produced in Kampot: Numbers 1, 2 and 3. Number 1 is a more expensive white salt.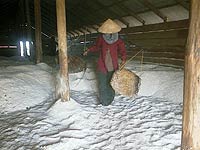 One sack (95kg) of No.1 salt can sell for about 2,000 to 2,500 riel. A 95kg sack of the darker salt costs between 1,400 and 1,500 riel.
Despite the high quality of Kampot's salt, there still is no market for the element outside Cambodia. The goods are here, but not the buyer. Koav Yit Ing, a farmer in Skove village, Koh Snar commune, Kampong Trach district, grumbled about the stalled nature of Kampot's salt market.
"If the salt had an international market, the workers here may get a better life. But as long as the government tries to develop the country's economy, Khmer salt producers have a chance of exporting their goods to foreign countries," he said.