Dear Friends,
May I join my Minister, H.E. Veng Sereyvuth, Senior Minister, Minister of Tourism, in welcoming all guests and tourists to our wonderful nation. The Royal Government of Cambodia has officially designated this year Visit Cambodia Year 2003, and we are pleased to inform all visitors that Cambodia truly is "A World of Treasures" as our slogan suggests.
The magnificent Angkor Wat temple and the many other historical sites in Siem Reap Province have much to offer our guests, but so do other provinces in the Kingdom of Cambodia. Depending on visitors' interests, the capital, Phnom Penh, too has many interesting things to see and do. In addition to the Royal Grand Palace, there is the National Museum, Wat Phnom and the confluence of rivers at Chaktomuk, just to name a few. The mysterious but beautiful Rattanakiri resorts have been attracting many nature-loving visitors lately, and to the west, the Banteay Meanchey Province offers yet another form of entertainment in the casinos at Poipet. Overall, there is no shortage of attractions to satisfy visitors and tourists coming to Cambodia.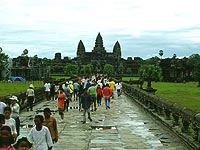 After the general elections of 1998, Samdech Hun Sen, Prime Minister of the Royal Government of Cambodia, brought peace to the people. Under his leadership, the government has taken all necessary measures to maintain political stability and to ensure security throughout the country, making it possible for tourists and visitors to tour our country without worrying about security problems. The government considers tourism to be one of the priority sectors for economic development, and Cambodia's tourism development is focused on "Natural and Cultural Tourism".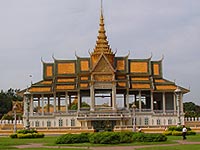 Based on recorded annual growth, it is projected that the number of tourists visiting Cambodia will increase to 1 million or more in 2003. There have been positive impacts on the overall national economy due to tourism, as reflected in the growth of national revenue. It is of interest to note that an estimated 100,000 Cambodian are now working in the tourism industries. Over time, tourism will become a key factor in our efforts to alleviate poverty and ensure sustainable socio-economic growth.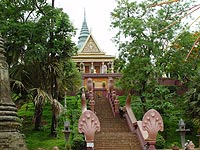 But in our efforts to revive tourism to provide for socio-economic development and the alleviation of poverty, we are also concerned about some social issues that are accompanying the growth of tourism in many countries around the world, including Cambodia. There have been some negative impacts associated with tourism, including rising crime rates and drug use, as well as increases in the trafficking of women and children and prostitution. Like nearly all other countries in the world, Cambodia also faces the problem of the commercial sexual exploitation of children, and we have every reason to believe that an increasing number of Cambodian children are becoming victims.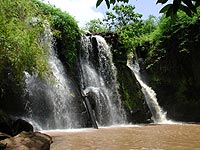 Research has shown that most of the problems have arisen as a result of poverty, illiteracy and a lack of effective law enforcement. Approximately 37 per cent of the total Cambodian population live below the poverty line, and this high level of poverty has been one of the main contributing factors to children leaving home in search of employment to subsidize household incomes. Young girls who are still immature both physically and mentally, face numerous problems once away from their families and often have trouble finding work on their own. They run the risk of being tricked by procurers who promise them well-paying jobs or boyfriends who deceive them, and may end up being lured, most often against their will, to work in commercial sex establishments. These girls are often brutalized both physically and mentally, and risk being raped, beaten, drugged and deprived of the most basic of human liberties.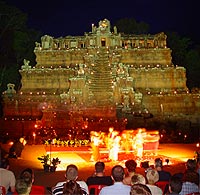 Cambodia has a number of laws to protect children, including laws on the suppression of the kidnapping and trafficking/sale of human persons and exploitation of human persons. We are working around the clock to ensure that our children are protected, and will prosecute to the full extent of the law anyone taking part in such criminal activity.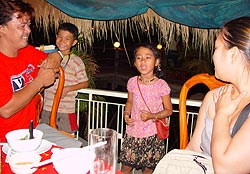 On that note, allow me to extend a very warm welcome to you and thank you for visiting. I urge you to explore and to take advantage of the many historical, cultural and natural wonders this country has to offer. Do interact with our friendly people during your visit here in Cambodia and enjoy the many diversities of our heritage. Cambodia is truly a "World of Treasures". Please help us to maintain the peace that we now enjoy and help also to preserve our cultural heritage for the enjoyment of all the other tourists who may visit after you.