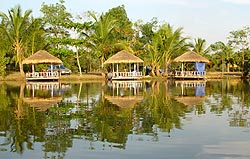 Cambodia on the weekend is a slow train chugging up a steep hill. Slow. Rest and relaxation are marked as goals to be achieved, and work is a vision of what was and what will be.
Anyone who has worked diligently throughout the week deserves a proper good time on his or her day off. Twelve kilometers down one of the smoothest roads in Cambodia, National Road One, the World Amusement Center permanently waits to serve you a generous helping of fun and entertainment. A fantastic afternoon may be spent lazing on the soft green grass, munching from a packed picnic or zooming around in one of the center's famous go-carts.
This entertainment center - located east of Phnom Penh in the Prehk Aeng commune of the Kien Svay district in Kandal province - is often packed with thrill-seekers on Saturdays and Sundays. Just beyond the entrance lies a man-made fishing pond surrounded by a series of cottages built on stilts. From early in the morning until late afternoon, go-karts and paddleboats may be rented for fun and excitement. And the fishing pond is open around the clock.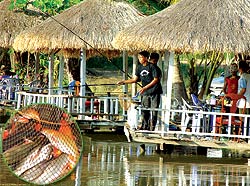 The center is privately owned and charges visitors a small fee to use the facilities. The fishing pond attracts more visitors than the more unusual go-carts and paddleboats, which also are available. Some daring picnickers try their luck fishing for their lunch. Hundreds of fishing rods are available, priced at $3 per hour. Chefs may be commissioned to turn your fish into a tasty treat- grilled, fried or boiled in a soup. Seasoned fishermen may bring their own rod and pay only $2 for a turn at the pond's highly stocked reserves. Some lucky sportsmen have caught up to 50 fish in a day. The pond is small, so screams of delight may be heard from every corner.
To file this story, I invited a few friends to rent a couple of fishing rods and while away the day. Within four short hours, we caught more than 40 fish of different sizes, colors and species. Carps, a favorite Cambodian fish, comprised the bulk of the catch.
Across a narrow boulevard beyond the fishing pond, a small lake offers a distinct approach to entertainment. Romance and sentiment abound on this body of water, where paddleboats await to take young lovers for a ride. Platonic friends also will appreciate spending time on this placid pond. Paddleboats may be rented for 3,000 riel for a 30-minute ride. All the anxiety of a busy week flow out of the body and into the air as the boat slides through the water. Young lads often seize this rare moment of privacy to snuggle with their sweethearts in the boat's narrow seat. Even if the couples cannot be seen, the sound of their happy giggles indicates that love is in the air.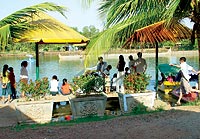 The jetty is often packed with anxious people waiting their turn to take a few boats out for a spin. Although the demand for the boats is high, the center's Taiwanese owner, who prefers simply to be known as "The Boss," is hesitant to expand.
For the thrill-seeker in you, a fast ride on a go-cart might just blow you away. For $3, drivers can race for ten minutes at top speeds around a long track secured by tires. The price is steep, but the laughter deep. Although some may find it difficult to pay money for fun, a trip to the amusement center is highly justifiable.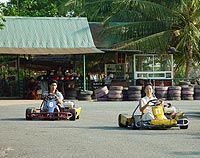 One is more productive when time is reserved for mental health and relaxation. A far less costly excursion than a trip to the therapist, the World Amusement Center is highly feasible. A bus ride from Phnom Penh to the "Tiger Beer Street" stop costs about 1500 riel. And the 500-meter walk to the park is free.
Pack a picnic lunch or buy food there. The taste and service are always of the highest quality. Fish, chicken, beef and pork are all available, ready to be served inside a pleasant cottage by a friendly wait staff. And there are always attendees on hand to hold your fishing rod for a small fee while you enjoy a cool drink or a bite to eat. Hungry travelers will appreciate the grilled chicken and the cooked fish, beloved by locals for their great flavor and price. Travelers, be warned, however - In Cambodia, it is always smart to agree on the price of a meal or any food before settling down to feast, otherwise prices could reach new heights by the time you are done. Don't let Phnom Penh's hurried pace run you down, hop over to the World Amusement Center and grab time by the throat.