Hidden in jungle and almost inaccessible by road, a huge ruined temple rears out of the forest in remote Preah Vihear province in northern Cambodia. This is Prasat Prang, the jewel in the crown of this lost city of Koh Ker. Now, people from the Ministry of Culture and Fine Arts along with UNESCO have started to put into effect plans that they believe will once again promote Koh Ker as a tourist attraction to compliment, if not rival, Angkor. Set amidst verdant jungle, the former capital of Koh Ker is located in Koulen district, 72 km west of the actual provincial town of Preah Vihear, and about 300 km north of Phnom Penh by National Road 6. It can also be reached by road by traveling about 85 km north of Siem Reap's Angkor Wat. Koh Ker is the city that King Jayavarman IV built for himself in the 10th century. He began work on his rival capital in 921AD and proclaimed himself king and Koh Ker his capital in murky circumstances in 928AD. "The former name of the city of Koh Ker was Chok Gargyar," said Mr Ung Von, Director of the Heritage Department under the Ministry of Culture and Fine Arts.
The ministry, in cooperation with UNESCO, has carried out extensive research on the site, much of which was set out in a January 2000 report. "It was built by King Jayavarman IV (928-942) and continued its brief glory for another two years under the reign of King Hasavarman II. In 944, King Jayavarman II's nephew, King Rajendravarman II, again moved the capital south to Yasodharapura (Bakheng)." There are approximately 68 monuments at this site alone, according to ministry officials, ranging from very small ones to the 35-meter splendor of its centerpiece, Prasat Prang. Prey Vihear province has about 200 Prasats altogether. Almost two years of research has gone into looking at ways of developing the site as a cultural and tourist mecca. That research was rewarded on July 10 when the Ministry of Culture and Fine Arts took about 70 government officials and representatives of the French, German, Japanese and US embassies, UNDP and UNESCO by helicopter to explore the area. The impressive Prasat Prang, which consists of a seven-tiered pyramid, is just west of Prasat Thom. Prasat Prang is the most impressive of the collection of surrounding prasats in the Koh Ker style with a series of halls and galleries leading off it to various other structures. Some of the most impressive carved lintels of any Cambodian architectural site are still visible through the vegetation. The remoteness of the site has in many ways preserved it from the worst ravages of looters that many other ancient structures have suffered. The surrounding jungle was declared a wildlife conservation area by royal decree in 1993 so any development will take into account the preservation of the wealth of fauna and the jungle that has protected Koh Ker for so many years. Visitors to the National Museum can get some idea of the quality of the Koh Ker stone carvings by viewing two pieces in particular from the city_ a pair of wrestlers, Sukrip (Sugriva) and Piali (Vali), the monkey-headed brothers from the Ramayana legend, locked in hand-to-hand combat, and a sculpture of Garuda, Vishnu's vehicle. "A special feature of the Koh Ker style is the use of gigantic figures, both human and animal, often captured in dynamic movement," said Mr Hab Touch, Deputy Director of the National Museum.

"These sculptures are a fine example of that style." At Koh Ker itself, many of the statues are already gone, smuggled out by thieves. But the structural carvings remain; giving a good idea of how glorious the city must have been at its peak. "Prang means a single pyramid-shaped pinnacle. Prasat Prang is a giant pyramid looming over the horizon and occupying a square platform of about 4900 square meters", said Mr Chuch Phoeurn, Under Secretary of State for the Ministry of Culture and Fine Arts. "It is defined by three laterite enclosure walls. The perimeter of the wall enclosing Prasat Prang and Prasat Thom measures about one kilometer. "Prasat Prang's stability was ensured by laying a large platform of laterite over four to five separate layers of packed sand and fill. The interior layer of Prasat was made of laterite and the exterior layer of sandstone, which was as precious as gold at that time but also perfect material for fine carving. "Prasat Prang created a new style of sculpture with a fine, dynamic design and lively movement as opposed to static designs of some other temples. "The finest designs are seen in the larger carvings, which also illustrate an excellent range of decoration and scenes of ordinary life, such as hair styles, ornamentation and jewelry of the time, for both royalty and the people. These are very different to those of Koulen or Koulen Brahman Deva (9th century) or Angkor (13th century)."
Mr Chuch Phoeurn said the skill required to construct something of Prasat Prang's size was considerable. "At about half of the height of Angkor Wat from the ground to the top, each tier of Prasat Prang is progressively smaller and higher than the one below. This seven-tier structure stands 35 meters tall, enabling visitors walking around the peak to see an endless expanse of jungle. Its style is more or less similar to Prasat Bakheng or Bakorng but the difference is that Prasat Prang has only a sole prang (pinnacle). "This pyramid has only one staircase facing to the east, climbing high to the central pinnacle, which represents Kailasa (a mythical mountain in Himalayas and the abode of Shiva), based on the perspective of Hindu cosmology. "A search is going to be conducted for the missing Sri Tribhuvanesvara or the Royal Linga at the top of Kailasa, which also demonstrated the mighty power of King Jayavarman IV." Mr Ouk Socheat, Under Secretary of State for the Ministry of Culture and Fine Arts, said that Koh Ker was vitally important as it filled an archeological gap in Khmer history. He said it would have its own cultural and technical value as an example of 10th century Khmer architecture, compared with most important historical sites in Cambodia.

Angkor and Banteay Chmar, for instance, in Siem Reap and Banteay Meanchey provinces respectively, are of the 12th and 13th centuries. Sambo Prey Kuk, another important archeological center in Kampong Thom province, is from the sixth and seventh centuries. "And visiting Koh Ker as a tourist destination would never disappoint," he added. "It is 300 years older than Angkor Wat and will exceed any visitor's expectations." But despite its beauty, the site has many hurdles to overcome before it can join Angkor as one of Cambodia's premier tourist attractions. "The area is still heavily mined because of the war in the 1980's," Mr Ung Von said. "And the road leading from Siem Reap to Koh Ker is still very bad and only accessible during the dry season. "There are few people living up here, and the majority of inhabitants of this red soil area are still poor and uneducated. They don't have schools, medical facilities, markets, a source of clean drinking water or a pagoda," he said. Prasat Prang's structure is relatively in good repair except its missing royal linga at the top. However, the structure of other temples, including Prasat Thom and Prasat Kraham had been partly or seriously damaged by, among other factors, centuries of neglect, vegetation, vandalism, and heavily shelling bombardment as the area used to be a Khmer Rouge stronghold. The local people have been enlisted to protect Koh Ker with the help of a small UNESCO. "Even though nothing is left inside the Temple except few ruined statutes, the Prasat Thom structure itself is fascinating because of its pyramid proportions and beautiful carvings and is still vulnerable to vandalism", said Ms. Tamara Teneishvili, Program Specialist for the World Heritage Unit, UNESCO Office in Phnom Penh.
"About 40 local people have been enlisted to protect Koh Ker with a Food for Work project run by the World Food Program and a small UNESCO grant, which provides them with an on-site shelter, two motorbikes and all the basic materials to monitor the monuments under a project to promote awareness among local people about the importance of this valuable asset and its preservation and the protection.
"It is still very difficult to access the area even during the dry season, but the first step will be to clear the vegetation from the monuments. "More important still is UNESCO's commitment to assist the Ministry of Culture and Fine Arts in approaching donors to mobilize funds for the protection and promote the Koh Ker site."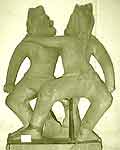 The French government and perhaps also CMAC will help to demine the area. A Siem Reap-based construction company has already budgeted to build a new road between Siem Reap and Koh Ker and develop hotels in villages nearby. Mr Chuch Phoeurn is cheerful and optimistic about the future for Koh Ker. "France is going to assist Cambodia in demining the area while UNESCO running a project to clear the monuments of vegetation and to help guard them. The road and demining are part of a master plan has been finalized by the Council for Development of Cambodia," he said. "Everything going to plan, when the area is developed, local and foreign cultural and eco-tourists will be able to visit the Koh Ker circuit by all-weather road by next year and by paved road not later than 2003," he added.