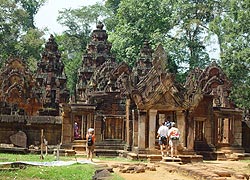 Visiting historic and cultural sites is one of the most popular activities today. Families, seniors, groups, and even international visitors choose to frequent historic attractions when on vacation. As a result, destinations are paying attention to one of the fastest growing niche market segments in the travel industry today-heritage tourism. What is heritage tourism? Heritage tourism is "traveling to experience the places, artifacts and activities that authentically represent the stories and people of the past and present."
Why has heritage tourism captured so much attention during the past decade? Primarily, economics drive the interest in heritage tour-ism. According to a recent study, people who engage in historic and cultural activities spend more, do more, and stay longer than other types of travelers. Visiting historic and cultural sites ranked second to sopping in the list of activities engaged in while on holiday.
The potential is huge, not only to attract more visitors to lesser-known sites but also to increase the monies generated from existing or new visitors. Heritage tourism also uses assets- historic, cultural, and natural resources- that already exist. Rather than creating and building attractions, destinations look to the past for a sustainable future.
Indeed these assets need preservation and often restoration or interpretation, but the foundation for creating a dynamic travel experience lives on in the stories and structures of the past. Often, the opportunity to create a tourist product is more easily attained by using existing heritage sites than if the destination had to develop new attractions.
As the popularity of heritage tourism increases, so does the competition. Heritage tourism's popularity, though, also stems from the opportunity to educate. Mission-driven institutions managing historic sites recognize the heritage tourism provides a unique opportunity to inform people on the importance of preserving and protecting Cambodia's treasures.
Awareness through tourism can ensure that Cambodia's most valued treasures are conserved and maintained for the enjoyment not just of heritage travelers today, but also of future generations. Through appropriate funding, sensitive development and promotion, heritage tourism affords a solid foundation that sustains the resource as well as offering a social and economic impact.