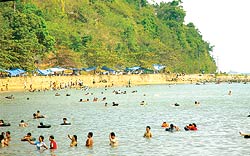 Dear Leisure,
We read your article last month concerning the province of Kampot and its sisterhood with Kyonggi of South Korea. It prompted my three friends and I, who were here visiting from Australia, to head straight for Kampot to check things out for ourselves. The trip from Phnom Penh took us almost four hours in our rented Toyota Camry. The roads for the first part of the journey were alright since we were all excited and perhaps too busy chatting away to notice otherwise. However, the stretch of road just before we were somewhere near Kampot had lots of huge potholes and traffic coming from both directions. We had to dodge these holes, making it actually quite dangerous, as sometimes vehicles were forced to come within inches head on.
Apart from this, Kampot is certainly a worthwhile place for a visit. At first sight, it appeared to be just another sleepy town like most of the others that we have visited in any developing country. There was no rush. No activity around except for the town folks going about their daily routine. We covered town in less than fifteen minutes and stopped to refill the car when we saw a gas station. There we inquired and took directions from the owner to go to this place he thought was good for tourists.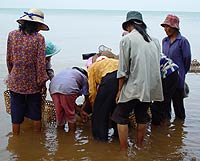 It was not difficult to find 'Teuk Chou'- a local out-of-sort resort by a rocky brook only a few minutes drive from town. On arrival, we were greeted by many stalls by the road selling all sorts of foodstuff and fruits.
As we got out of our vehicle, we were immediately approached by food vendors rushing and pleading to take our order for lunch. These vendors can be quite persistent but since we needed lunch anyway, we permitted this big lady to lead us to a place under a tree by the stream. This was a makeshift platform made from some planks and neatly covered by a grass mat. Under the shade of trees by the stream, it was really quite cozy and comfortable.
We ordered lunch and, believe it or not, they actually served a full meal with fish, vegetables, chicken, soup and rice. The place was quite crowded with holiday-makers picnicking and having fun in the water.
The water in this rocky stream was crystal clear and cooling as well but unfortunately it appeared as though it was fast drying up and there was not much left to cater to the crowd, all rushing for what's left of deeper areas. For us, it was a rather pleasant place to have lunch.

After lunch, we were told to visit 'Psar Kdam,' a beach where crabs are up for grabs. It's the 'crab market' in Kep. Our big lady food vendor described the place with such enthusiasm that we just couldn't resist. True enough, the beach was crowded with a line of shops selling all sorts of things and in the shallow water, we saw people crowding in groups around trays of crabs as they were being hauled in from the sea.

There were crabs of all species and sizes. Isn't there any fish at all in this part of the ocean? Only crabs! Besides the bustling activities of people haggling over the crabs, food vendors were also making a thriving business catering to the crowd there. They sold everything from noodles to cakes, banana fritters to rice, and everything Khmer. The favorites were grilled crabs, squid and ray fish. Grill boxes nearby were busily serving out these delicacies almost nonstop to tourists all eager to get a taste of the local favorites. The place was full of life. Lots of tourists, local and foreigners all having a ball of a time tucking in freshly grilled crabs. If not for the fact that we already had lunch, we would have joined the crowd by the beach too. This is definitely a stopover not to be missed when visiting Kampot.
We proceeded along the beach and arrived at the main attraction of Kep.
The sea-front opens up to expose a beautiful scenery of peace and tranquility. It made us wonder if we were indeed still in Cambodia. The drive by the sea on this stretch was enjoyable. We saw a guy trying his luck with a fishing rod directly under a sign that said: 'No Fishing Region.' Walkway vendors were setting up tents to sell food under signs that said: "No Eating Here". We were in Cambodia alright!
Further down, we arrived at a place where locals go for a swim and to have fun. The beach there was rather crowded and there were facilities for a fresh water bath and a change of clothes too. Seeing that there was nothing to do unless we wanted a swim, we decided to head back to check on the guy with the fishing rod under the 'No Fishing' sign. He simply grinned and said, "I only caught three small ones.' We spent a good hour keeping the guy accompanied while enjoying the nice ocean breeze, and all throughout the period no one came to reprimand us or even bother to warn us of the sign on the tree. Nice place for a change.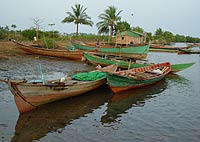 On the way back, our new friend Tora, the brave fisherman, brought us to visit a small fishing village known to the locals as the 'New Beach.' Turning off from the main road on the way back to Kampot, we made a right turn and drove all the way to a dead end. Here in this corner of the world was a small village by the shore. There were mangroves and small shacks standing on stilts in the shallow sea water. The houses here were all made from wood and bamboo with zinc and attap roofing. The people were friendly and, of course being a fishing village, there was naturally lots of seafood to be had. We bought some very fresh big prawns, squids and crabs and commissioned one of the families to cook for us.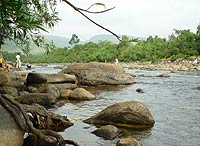 Tora laid two pieces of a grass mat on the floor in one of the shacks on stilts, and we had a gala candlelight dinner by the sea that night. It was a wonderful experience, and we truly enjoyed ourselves.
We must add that although we did not see much of the Kampot we had expected to after what we read [the article], the trip to Kampot was indeed a pleasant and enjoyable one. Just the same, I guess it all depends on the individual. Any trip can be enjoyable when one embarks on it with an open mind and seeks out the twists that turn the most ordinary into the extraordinary. Cambodia has many interesting places of interest. In my opinion, Kampot is certainly is one of them. Cheers.