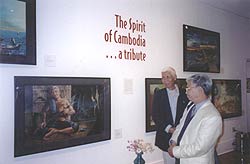 Some people are just born lucky. Others wake up to a long road of misfortune. In Cambodian culture, it is believed that one's luck is determined by the good deeds they have performed in previous lives. But simply because one is born lucky does not mean their life will be easy. In fact, it is sometimes the greatest hardships that enable us to see how lucky we truly are.
Vann Nath is one of the luckiest men of the country. He is the only living survivor of Tuol Sleng, the prison employed by Pol Pot as a holding tank and torture chamber. About 14,000 people perished in Tuol Sleng. Vann Nath knows only 13 captives that successfully escape the prison's hand of death. Of that 13, nine were killed by landmines, which exploded as they were running away. The remaining four survivors safely escaped the prison, but three of them later died from diseases contracted during their incarceration. Only one prisoner remains to tell his story, the lucky Vann Nath. Vann Nath is a witness. Trained as an artist in Battambang province, his paintings testify to the horror stories that have been silent for years. A painter since the age of 20, he studied technique at a private school in his village. Vann Nath began a new life in 1971 when he married his wife, and seemingly ended it four years later when the Khmer Rouge turned Cambodia into a culture of fear.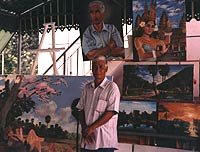 During this reign of terror Vann Nath was prohibited from painting or even sharing his work with others. The artist and his family were forced to leave town for a remote area where they grew rice for the Pol Pot regime. Traveling 8km from the province to Omony village, Vann Nath was separated from his family to work as a farmer and construction worker. A year later, Khmer Rough soldiers reassigned him to gather wood for cooking in the kitchen. Vann Nath could tolerate the work but not the soldiers' inexplicable behavior. Two years into this internment, Vann Nath was arrested on December 30, 1977. Giving him no reason for the detainment, the Khmer Rouge soldiers escorted him to Wat Samrong prison in Battambang that night.
"I stayed in Wat Samrong prison for one week. After that, they sent me with the other prisoners in two trucks to Phnom Penh," said Vann Nath. "One truck was loaded with 30 prisoners and all of them were tied with shackles, made of bamboo, and blindfolded with black cotton on the eyes." He said upon their arrival in Phnom Penh, the prisoners' blindfolds were removed because it was too dark to see anything.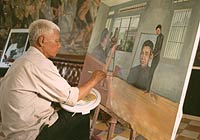 "I had never come to Phnom Penh before, so I did not know where this place was, but I heard from people chattering to each other that it was Tuol Sleng prison. I was very surprised and thought that the death would come to me immediately," Vann Nath said.
He spent January 7, 1978 - his 32nd birthday - in Tuol Sleng and did not believe he'd live see another year. Soldiers killed prisoners every day. "Living in Tuol Sleng was very hard. Legs were in long shackle made of bamboo and lined up with at least 20 prisoners. Lack of food was a common matter. One prisoner was given only one scoop of rice soup. In one scoop was a few grain of rice and a lot of water to eat. Life then was just waiting to die," said Vann Nath.
After pacing in Tuol Sleng for more than a month, a Khmer Rouge soldier asked Vann Nath for his name. Then he was asked to meet the Khmer Rouge chief. Familiar with the prisoner's artistic ability, the chief asked Vann Nath to resume painting. This time, his expression would not be from the heart but for Pol Pot.
"They told me to paint the chief of the Khmer Rouge's picture. I was very worried that I could not paint a good one. I thought I would be killed because I had not painted since 1975 to 1977," Vann Nath said. When the painting was finished, Vann Nath said it turned out poorly because he could not control his fearful emotions. To his great relief, Duch, chief of Toul Sleng prison, said "No problem." Vann Nath remembered that Duch encouraged him to try again. This second chance gave the artist a reason to live again. With the power of his paintbrush, he earned proper accommodations and food to eat. On January 7, 1979, Vann Nath left behind his life in Toul Sleng. The Khmer Rough had fallen and Pol Pot was only a memory. The artist began working as a soldier, painting on the side. Although his days of terror are over, Vann Nath's memories of life in prison are vivid. It is this clarity that allows him to paint even the most painful scenes of torture in death, ensuring that future generations never forget the past.
Vann Nath celebrated his 57th birthday this year with two daughters and a son. It has been a long journey, but Vann Nath's hardships have carried him great distances. Hailing from Svay Por village in of Battambang Province, the artist kept house in Phnom Penh following the Khmer Rouge regime, and recently ended up in the United States of America. Based on his merits and popularity as an artist, Vann Nath was invited in October 2002 to participate in an exhibition at Provident University in Rhode Island. The month-long art show, called "The Spirit of Cambodia," was an enormous success, proof that good deeds from the past reap good luck for the future.