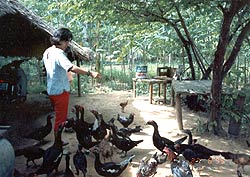 Agricultural Tourism
Agricultural tourism is a world-wide trend which offers city dwellers a chance to escape urban concrete and re-discover their rural roots. Agricultural tourism is a relatively new market for tourists. The of interacting with individuals that one may not interact with on any level at any time involves the mystery that accompanies the occupation of this individual. The interaction of individuals with farm life also carries an educational aspect. People tend to enjoy learning about items and processes that they will not participate in directly. Agri-tourism or Agricultural tourism is becoming an important tourism development opportunities and more of the population have moved to the city and have lost their connection to where agriculture is produced.
"Agricultural Tourism" includes a set of economic and social activities that occur and link travel with the products, services, and experiences of agriculture.
Agricultural tourism is a type of tourism that has seen a boost in popularity within recent years. It allows people to stay at fully functioning farms and ranches in order to observe the work routines and activities that are undergone in the agriculture business on a day to day basis. This is an excellent opportunity for many people to experience and learn about a lifestyle that is quite different than their own, often times in beautiful, peaceful, rustic settings.
What are the advantages of agri-tourism?
There are significant benefits from spreading depreciation, interest, taxes, insurance, rental, or advertising costs that are fixed in the short run over additional activities such as agri-tourism. Excess capacity may allow growers to increase the scope of activities. Agri-tourism may require minimal additional investment and may utilize excess capacity of labor, capital, land, and natural resources.
Agri-tourism is an excellent means of supporting rural communities. Tourists bring in dollars to local communities that keep rural communities alive and prosperous. Partnering of tourism and the green industry will help create and strengthen rural economics.
Tourists tend to enjoy learning about items and processes that they will not participate in directly. A guided walking tour of a garden or nursery will help children learn the basics of how plants grow, and learn what a power's job includes. This can potentially inspire new employees!