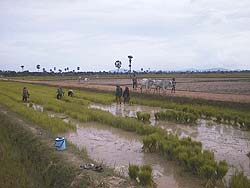 Eating rice, like breathing air, is a matter of survival in Cambodia. This granular staple of the Khmer diet fulfills both the country's nutritional and economic demands, nourishing the body and the mind.
Starting from the ground up, farming, particularly rice farming, employs approximately 85 percent of the work force. This field joins a larger agricultural sector that accounts for 84 percent of the country's gross domestic product.
Consider the economic ramifications of a grain of rice. The production, distribution and consumption of rice allow millions of people to exist. While one may think that the cook who scoops a warm spoonful of rice onto a hungry diner's plate plays the most critical role in the grain's long line of production, it is the farmer that is truly the most laudable. For how would a stomach be filled if a seed had never been planted?
Svay Keng owns a hectare of land. He also lays claim to a family. And with the help of his sole plot of earth, Svay Keng has miraculously turned himself into a breadwinner. Really, it is the entire farming family that makes the dough rise in Kran Daun Tey Village, Sangkat Chom Chou, Khan Dangkor.
"What we got from our whole year of hardworking [is a reserve of rice].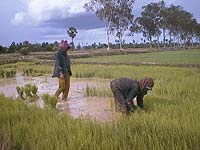 We do not sell this rice but keep this supply to ensure my household's food security," he said. "If we need some extra income to buy something, we will sell a share of our stored rice [stock] for money."
When his hands aren't gripping a shovel, they're steering the handlebars of a moto-bike. "Usually besides farming, I run a motor taxi to earn additional income for the family's spending," he said, reflecting the resourcefulness practiced by many Cambodians.
This cunning cultivator is one of many farmers who have learned to coax life from the earth. A woman wrinkled by time told Leisure, "We are Cambodian, and farming is a traditional agriculture [practice] that we inherited a long time ago from our ancestors. We never forget farming and always feel grateful to rice because it is the God that can sustain our life."
Once rice leaves the paddies, intermediaries involved with the milling, distribution, marketing, and sale of rice share in its economic rewards. Workers in Battambang province long have benefited from the production process. Rice outputs in this region are higher than in any other province. Battambang is home to the first large rice warehouse supplying rice to vendors throughout the country. Here, privately owned mills buy rice from farmers in order to run the grains through a long grinding process. The grain is transformed into three products: husks, rice, and rough rice bran. Husks must be stored in cool conditions while rough rice bran is useful at any temperature and can be found even in the food of animals and fish.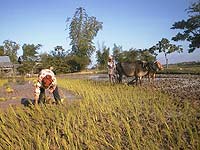 From Battambang, rice is distributed to other provinces and cities throughout the country, benefiting rice mill owners, wholesalers and retailers. Two types of rice may be found for sale in the market: Khmer rice and Thai rice. The former hails mainly from Battambang, Takeo and Neak Leang provinces. The latter is similar to Battambang rice but is glossier and whiter.
While foreign visitors may not be able to discern the difference between the strains of rice, locals make it a habit to know. Choup Narath, the son of a rice seller who hawks his goods in front of a railway station, explained how one can identify the distinct qualities of rice.
"Thai rice is softer and whiter than Battambang rice because chemical substances are used to improve the quality of the grain. Thai rice can be stored longer than Khmer rice," usually preserved for less than six months.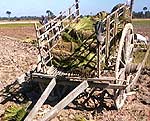 "Most people prefer to buy Battambang rice rather than Thai rice because it does not affect their health, while others prefer to buy the combination of Battambang rice and Thai rice because Khmer rice is more rigid than Thai rice," Choup Narath added. His father currently dominates the marketplace, but Choup Narath's careful observation is preparing him for a great future as a salesman. Ready even to sell his goods to Leisure, he advertised the three main varieties of Battambang rice. "A kilo of Somaly costs 1300 riel, Pkar Kgney costs 1100 riel, and Neang Mingn costs 900riel. The cheapest ones are rice from Takeo and Neakleng called Banla Pdov costs 800 riel a kilo," Choup Narath explained. Thai rice generally is of a higher quality, making it more expensive than the Khmer variety.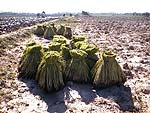 While the farmer plays one of the most critical parts in the production of rice, many cultivators sorely lack the skills or tools to be truly productive. Poor farming and marketing techniques have locked contemporary farmers into the antiquated practices of the past. Many non-governmental organizations currently are working to introduce new methods for farming so that farmers may yield maximum outputs and improve their standard of living. One particular program called the Multipurpose Rice Field is supported by CEDAC's extension program to provide solutions allowing farmers to produce enough food and income to fulfill their families' basic needs while conserving the natural base.
With the technical assistance of NGOs, it is expected that the future of Cambodian rice production could achieve a regular export level with the expansion of irrigated rice areas, increased use of fertilizer, and increased adoption of high-yielding varieties. Perhaps then, hardworking rice farmer will be properly rewarded for the calluses and backaches they've earned ensuring that hungry Cambodians are fed.