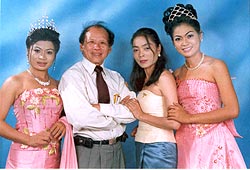 The mental and physical abuse of war ravaged the bodies and souls of countless Cambodians, slaughtering not only life, but the will to live as well. Cambodians gifted with artistic or intellectual skills were favored targets by the Khmer Rouge regime, since independent thought or action might question the legitimacy of Pol Pot's prescribed reality. The country suffered a great cultural draught after the genocide, leaving few artists a space to create.
One filmmaker managed to avoid the hand of death however, and has become a pioneer in the resurrection of Cambodia's movie industry. Ly Bun Yim, an 61 year-old Kampong Cham resident, escaped the violent wrath of the Pol Pot regime after spending more than a year imbibing its extremist communist ideology. In 1977, Ly Bun Yim fled to Thailand, which served as a bridge to a new life in France. In Europe he confronted history's dark memories, replacing them with visions of hope for the future. After Cambodia's first general election in 1993, Ly Bun Yim returned to his homeland in March of 1994. He has come to make a difference.
The shining star behind the scenes of Cambodia's film industry throughout the 1960s, Ly Bun Yim was adored for entertaining the country with a a total of 21 films. Khmer films experienced tremendous popularity throughout the 1950s and 1960s, and Ly Bun Yim was one of the most skilled filmmakers in the country. Riding a wave of success, his accomplishments culminated in the acquisition of Flash Diamond Movie Production.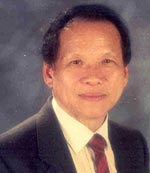 But the movie scene was cut after King Sihanouk fell to the hands of the Khmer Rouge soldiers. Cambodians, forced to prescribe to an extreme egalitarian philosophy, quickly discovered that the only equality uniting the country was the collective rumble of empty stomachs.
Starvation and murder slaughtered the arts, with artists falling to or fleeing death. Once planted, however, the seeds of culture cannot be uprooted. The film industry was revived and even improved upon after Pol Pot's demise. Several productions were saved on videocassette, creating a new trade of movie rentals.
"Many people watched Khmer films because they were hungry to watch something that has been lost during the Pol Pot regime. But they did not really want to do so, because after the war Khmer films had no quality," Ly Bun Yim said.
"Khmer film development did not last long, as people started to figure out its quality." After its heyday, the quality and popularity of the film industry wavered, lasting only from 1979 until 1994, when an influx of good foreign movies began to trickle into Cambodia. The trickle turned into a flood, and foreign films dampened the Khmer film industry almost as much as did the Khmer Rouge regime. "We need to do much better, otherwise our movies cannot compete with foreign films," Ly Bun Yim confessed. "Our good producers all perished during the Pol Pot regime, so it is hard now to [compete with] those foreign movies."
Despite the setback the Khmer film industry is showing signs of life again. Six new cinemas have opened in Phnom Penh last year. And cinemas in Kampot province and Battambang province also have popped up, according to Muong Khan, Deputy Director of the Cinema Department. He added that more movie theaters are under construction in Takhmao, Stung Treng and Kampong Cham provinces. More than 30 cinemas lit up Phnom Penh during 1960s.
Ly Bun Yim plans to have a stake in the future of Khmer film. He is aiming to revive the business by opening a joint venture project under the same Flash Diamond Movie Production name. Khmer friends that have relocated to the United States of America plan to support the venture, Ly Bun Yim said. With the help of his Cambodian American peers, he is building a studio and auditorium for $110,000 in Takhmao, Kandal province.
"My friends really love our Khmer film, so they provided me a lot of help to restart one of the best productions in the country to revive our Khmer films," said Ly Bun Yim. He is set to shoot a movie called "God Judge" on internationally standard 35 mm film in February 2003. This is the first he will have made since returning from France in 1994. Production will last about three to four months and will cost $400,000. Ly Bun Yim is not the only film buff to get a boost from the production. Rising stars cast in the movie are looking at the production as a valuable launch pad to successful future. Ly Bun Yim is excited to teach the budding actors effective dramatic techniques, since audience long have looked down upon the quality of Khmer acting. "I love to teach young people how to become an actor. I do not charge anything, I love the film, so if you are willing to learn you can come," Ly Bun Yim said.
The "God Judge" depicts Buddha's teachings, illuminating the lesson "do good, receive good." He said the story would teach people not to commit bad deeds, as they will be punished by the god. Ly Bun Yim's investment in the future may be the catalyst to revive not only film, but other struggling Khmer arts. His biggest obstacle is no longer internal political strife, but rather the influence of external forces. Few Khmer films can compete with foreign films produced in China, Thailand and Hollywood California. And although private companies have opened more than six new cinemas, the expensive price of renting a theater is not easy for filmmakers to afford, which motivates few filmmakers to produce original works.
The development of the Khmer movie and music culture should be interesting to watch, since even pirated CDs and DVDs will be banished by the new copyright law passed by the National Assembly in January. Ly Bun Yim recognizes the potential for yet another cultural draught, and is working harder than ever to ensure that Cambodia's cultural seeds to not wilt and die.