ASEAN countries are like a family of sisters, each one more beautiful than the next. It is difficult to pick favorites among the group, since all have unique personalities and attractions. Rather than choosing one to visit, why not tour them all? Southeast Asia is not one point on a globe, but rather an open map with which you plot the course. Let us first explore the three sisters bordering Cambodia.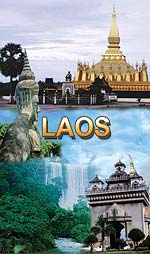 Laos is like the ASEAN family's youngest sister all grown up. She is still developing her natural assets just waiting for the right friends to recognize her beautiful qualities. Laos is humble. The country does not yet realize how to shake what her mamma gave her, since it was just in 1990 that the Lao People's Democratic Republic opened its doors to the world after years of communist rule. Now, visitors can sip coffee in one of the cafes along river-lined Vientiane while plotting their journeys to visit the exotic hill tribes in northern Muang Sing or the gold-covered temples of Louang Phabang. One may take a plane up north or extend the trip by hopping on the bus to see and smell the beautiful rice paddies and karsts along the way. History buffs may enjoy visiting the town of Phonsavan, by which the Plain of Jars rests. Bomb craters puncture the land here, while ancient funerary urns mark a sight ravaged by the Vietnam War. On your way out of Laos, be sure to head south again to spot the Irawaddy dolphins swimming along the Si Phan Don islands speckling the Mekong river.
Millions of visitors know the delights Thailand has to offer. Recent development has not spoiled the country's long-established culture, where over 90 percent of the residents practice Theravada Buddhism. The capital city of Bangkok is bursting with guesthouse waiting to direct you to the ancient temples for a dip into religious history or modern shopping malls, where sweet deals are a bargain-hunter's dream. Once out of the busy capital, travelers must take in the beautiful, relaxing beaches of Thailand. Grains of soft white sand melt beneath your bare toes while a turquoise sea waits at your fingertips to be explored.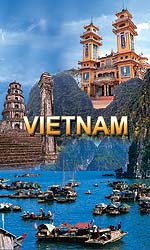 Vietnam is a traveler's delight. Shadowed by a history of war, Vietnam presently is a haven of peace. Ho Chi Minh City's French-inspired bistros and cafes can revive weary travelers hankering for a taste of home. Its tree-lined streets, expertly swept, are perfect for walking. The colorful silk hanging in shop windows reflects the vibrance of the rest of the country. A trip out to the rural Mekong Delta reveals rice fields and orchards and can explored by boats departing from My Tho, Cinh Long or Can Tho. These rides fill your lungs with fresh air and cool your sun-kissed cheeks with moist breezes. To cool off even more, travelers love the beautiful beaches of Bung Tau. Before leaving the country, Hanoi must be explored. This city acted as Vietnam's capital for nearly a thousand years and is full of pagodas and dynastic temples. Life slows down in Hanoi, allowing travelers to stop and reflect on the foreign lands that are now familiar.