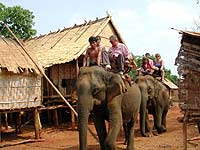 Recreational experience involving visits to rural settings or rural environments for the purpose of participating in or experiencing activities, events or attractions not readily available in urbanized areas. These are not necessarily agricultural in nature.
Rural tourism includes a range of activities, services and amenities provided by rural people to attract tourists to their area. This broad concept covers cultural tourism, farm tourism, special interest nature holidays and touring in rural areas. The authentic village life style and traditional culture are strong tourism products which can generate tourist appeal. The resources of rural regions -the people, community lifestyle and rural landscapes also have immense potential to attract tourists.
Rural Tourism is one avenue to achieve increase in income, employment and economic stability while revitalizing community's traditional resources. Some other strategic factors favoring development of Rural Tourism are:
1. To ensure equitable distribution of income among the regional population. Rural tourism will ensure that a part of the tourists' spending will directly accrue to the villages.
2. Need to sustain fast vanishing rural/ethnic culture and lifestyle, which is sometimes perceived to have little economic value.
3. Social Integration, and generating respect and equality among the tourists and rural population.
4. Additional avenue to increase national and international tourist traffic. Rural Tourism can provide much needed impetus to the tourism activities as well as preservation of rural and cultural resources. Its planning will involve setting up institutions (formal and informal) at grass root level with participatory approach adopted by the state institutions. The training of service providers and creating awareness among the stakeholder population are key factors for its successful implementation. At organization level mechanisms for protecting the interest of service providers, ensuring the quality of services and watchdog services to avoid unscrupulous elements from exploiting rural masses, are to be created. Finally a marketing plan to create awareness among the desired segments of tourist is necessary for the success of Rural tourism.