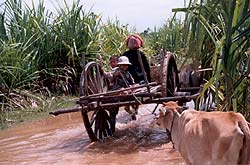 To distant observers, the ox cart may appear to be an antiquated means of transportation, but to rural Cambodian farmers, the cart can make a difference between life and death. Particularly during the rainy season, the two-wheeled wooden cart enables farmers to earn a living by carrying rice seeds for planting to remote fields. When the harvest season arrives, farmers load their collected rice onto the ox cart and move it from the fields to their houses.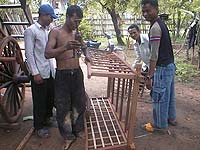 Today's technology has created new means of transportation, but since modern conveniences are often expensive, many Cambodians follow the path paved by their ancient ancestors. Ox carts have been used Cambodia since the reign of Jayavaraman VII, according to Oung Von, director of Patrimony Department at the Ministry of Culture & Fine Arts, Jayavaraman VII, a Khmer hero, developed the cart by following patterns engraved in the temples of Bayon, Banteay Chma, Preah Khan and Angkor Wat."Ox carts are related to the Khmer story of Preah Bath Mhou Sot and his wife, Preah Neang Ommara," explained ox cart maker Soun Eun, 64, of Thmey village, Rokathom commune, Chba Moun district. Soun Eun said that one day, when Preah Bath Mhou Sot was working in the rice field, his wife Preah Neang Ommara brought him food. She encircled an egg with many thorns and placed a tamarind above it.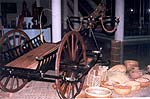 When Preah Bath Mhou Sot took the food to eat, he thought the egg and thorns looked like a wheel, while the tamarind looked like the boat of an ox cart. Thinking that his wife wanted him to make an ox cart, he tried to make one as the food had shown him. The wife's innocent delivery of lunch changed the course of history. Khmer people since have used ox carts for work and play. "Khmer people that want to be beautiful and clever always pray," Soun Eun said.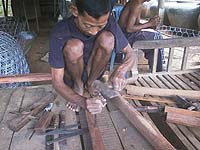 "We want a good and beautiful life like Preah Nang Ommara and to be clever like Preah Bath Mhou Sot."
There are distinct varieties of Khmer ox carts, according to 54 year-old San Sim, a cart maker. The Saly and Kach carts are good, but the Bend cart is preferred by most because it can hold larger, heavier items than its counterparts. People generally use the Saly cart for decoration or racing. Because this cart often is decorated by carvings, it is too luxurious for industrial use, Soun Eun said. He added that the Khmer ox cart is made by the best wood in the country, including Thnoung, Chakrom and Chek. A cart can measure up to four meters long and 1.73 meters wide. It is set upon two 16-spoked wooden wheels 1.24 meters high. New to the ox cart industry are iron wheels, which some claim run better in mud and sand and can carry heavier loads. San Sim said three people can make one cart in 15 days, but production can last a month if only one person is doing the work.
"A lot of people in my village make ox carts to sell, but they do not sell them at the market," San Sim said.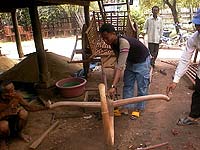 "They make client orders first, and then later sell to the market." There is a greater demand for the $150 Bend carts, although some civil servants purchase Saly carts for up to $350.
"Ox carts are different from one place to another," Soun Eun said. "People who live near the riverside like to use the big-sized ox cart, and people in my province [Kampong Speu] like to use smaller sizes, as men did in the past."
Beyond the rice paddies, ox carts are invaluable for the transportation of chopped wood or even people. Many families have been known to travel great distances in the back of a cart, which is pulled by either a cow or a buffalo. Men generally drive the cart, but brave women can if they dare. Although carts are primarily used for peaceful work today, in ancient times, the army used ox carts for fighting or hauling weapons, said Oung Von.
The global community's race to improve future technology often sacrifices tradition and history. Although its styles have changed from those depicted on ancient temples, the Cambodian ox cart remains alive and well, linking today's society with the genius of the past.
Oung Von said, in the ancient time the army used ox cart for fighting and bring weapons, army when they are lost, and now people use it according to the reign.