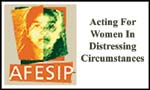 The lucrative nature of Cambodia's human trafficking industry has threatened to conquer Mr. Pierre Legros and Mrs. Samaly Mam's quest to free women from a life of sexual servitude. But the couple, founders of the AFESIP organization, is familiar with uphill battles. They have been fighting the country's timeless cycle of abuse since 1996.
Sexual exploitation and human trafficking are two of the biggest challenges facing female Cambodians today, making the sex industry the country's third largest employer of women. Poverty and a lack of formal education drive girls and women alike into this dangerous business sector, where they often become the lapdogs of wealthy pimps. Women from the rural areas are particularly vulnerable, as few job and educational opportunities reside beyond the rice fields. AFESIP aims to take action against human trafficking issues and sex exploitation of women ans children, including the rape and child pornography. The organization also is tackling human trafficking by encouraging families not to sell their children to the commercial sex industry.
Last month, more than 50 women across the country have been saved by AFESIP. Vietnamese women caught in Cambodia's sex trade also have benefited from AFESIP's training programs, through which women learn self-efficacy and technical skills. "The rescued victims have 14 days to decide whether to stay in the center or return home. AFESIP does not force those victims to stay in the center if they don't want to," said Uong Chheng, head of AFESIP's outreach department.
Women choose to learn specific skills at the center, like cooking, sewing and barbering. Victims also are educated to read and write the Khmer language. The center has a consulting team that offers women the opportunity to process and communicate thoughts with a psychologist after enduring a traumatic experience. Support even extends to the legal realm, with the center's team of lawyers serving up advice to women in trouble with the law.
"What's more, AFESIP has a team in charge of observing places in Phnom Penh to find out who is likely to become a victim," added Uong Chheng. This group, the "investigating team," visits brothels, karaoke parlors, coffee shops, hotels and guest houses daily. The team also has identified massage parlors, public parks and gardens, restaurants, and snooker clubs to be hives for sexual transgression. "Those observers need to teach them [prostitutes] how to have safe sex with a partner and to establish equality between two people," Uong Chheng said. The team has been effective in identifying trafficking and prostitution hot spots. Statistics show that Khan Russei Keo has the largest number of brothels, followed by Chamkar Mon and Toul Kok. Women from these areas are given the opportunity to train in the center for six months, after which point they can return home. If they feel unprepared to face life beyond AFESIP, they may stay to acquire greater knowledge and more skills. Once emotionally and professionally prepared, women have help finding jobs and sometimes reintegrating into their families. Although AFESIP's three centers in Kampong Cham, Siem Reap and Phnom Penh offer women a new beginning, it is not always easy to convince women to leave behind a life of easy money.
"AFESIP also faces some troubles when we implement the activities," said Uong Chheng. "Some girls feel like victims; they do not cooperate with the authorities or us." These prostitutes, he discovered, are discouraged when "freed" by authorities, since trading sex for money often reaps faster rewards than working in the rice fields or garment factories. Uong Chheng is determined to remind these wayward women that a life of sexual servitude is a life of hell. "They should try to get out and get a job like other normal citizens," he said.
Cambodia's steadily growing tourist industry and foreigners' voracious sexual appetites do little to stem the problem, however. Many tourists flock to Cambodia to sample local flavors, including young boys and girls whose naked pictures often wind up on pornographic websites. "We suggest that people in the countryside should not easily believe unknown kind people because their kindness is dangerous and not valid," said Uong Chheng. "They can offer you anything and then sell you like animals."
The government and NGOs are working to eradicate the sexual slave trade, but human trafficking is steadily increasing, particularly along the border between Cambodia and Thailand as well as that between Cambodia and Vietnam. Although Cambodian men and women must break the cycle of abuse, the sex industry will close only when foreign consumers assume control of their raging libidos. Tourists looking for a good time should be warned, Uong Chheng said. If criminals and foreign visitors continue to exploit Cambodian women, they may face legal castigation or "suffer the terrible consequences of Khmer people taking things into their own hands," he said.
Within the global community, Cambodia's shady sexual underworld is not unique, but many of its natural treasures are. Beyond the brothels, unforgettable memories are waiting to be made at exotic locals like Angkor Wat in Siem Riep or the tropical beaches lining cozy Sihanoukville. When the demand for sexual servitude stops, so will such trafficking.