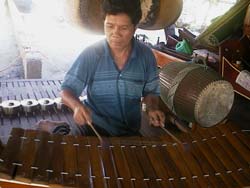 The banging sounds "Pang, pang, pang," are as piercing as the fiery red sparks shooting from the hammer of Im Bun Theoun, one of Cambodia's premier instrument makers. A young girl sits beside him in the small cottage, feeding the fire and listening to the natural music of crackling flames.
Since much of the country's musical culture was eradicated during the Khmer Rouge's reign of terror, Im Bun Theon is thought to be a pioneer. He and his wife reside in Roung Chak village, Phnom Penh Thmey Commune, Russey Keo District, Phnom Penh. Im Bun Theon says he copes with the harsh memories of the Pol Pot regime by making and playing musical instruments. During the Khmer Rouge, he was a musician for a Pol Pot army group. He said he played for them with no hard feelings. His talent was a life saver, enabling him to breathe, while so many others were emotionally and physically asphyxiated by mass genocide.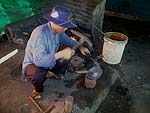 When he was still working at the Royal University of Fine Arts in 1984, Im Bun Theon began making Khmer instruments for a Japanese company. Seven years later, he stopped working at the university to begin making instruments full time with his wife at home. Included in his repertoire are Kong, a variety of small gongs arranged in a semicircle according to their pitch; Chhoeng, a tiny pair of cymbals; Sam Phor, a kind of drum covered with skin; Takhe, a guitar-like instrument; TroOu, a violin-like instrument with hard, heavy tones; and the xylophone. All are made from bronze and wood.
Although bronze can be more aesthetically pleasing than wood, it is difficult for Im Bun Theon to use the metal, since he must order it from other people for $7 per kilogram, and it is not always clear whether the product is bronze or copper. "Copper is very soft. When we turn it into an instrument and we hit it one or two times, it will crack," he said. "It is not like bronze and will wilt."
While his hands twisted a strip of bronze around a Kong's wooden frame, Im Bun Theon explained how he makes his instruments. "First, we burn the bronze and after put it into a mold. Then we hit it into the shape of a coconut shell. Later, we make it round by tying it with round wood." He spends three days sweating over the fire to produce one beautiful, high-quality instrument.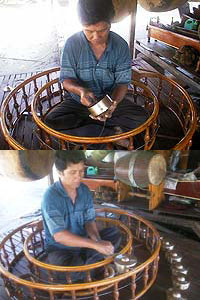 Since his work depends on fire, rain can put a damper on production. "We make instruments according to the weather," he said. "If we have rain or unkind weather, we can't do it because we need fire and sunshine." This humble business reaps great rewards. One group of instruments can be sold for $2500, but Im Bun Theon does not keep all the money. He first must pay for raw materials, student workers, and finally his family. Although he sees only a portion of the profit, this salary is far better than what he was making at the Royal University of Fine Arts. He is pleased to be able to provide more for his family by doing what he loves.
Ten years ago, Im Bun Theon worked long, hard hours with his wife to make enough instruments to survive. As an established artisan, he now can work less by employing six students to help with production. His students follow the master's instructions, which yield products specifically requested by clients the University of Fine Arts, Khmer people living abroad, and monks who use instruments to celebrate ceremonies at the pagoda.
The 52 year-old's lips curl into a smile as he speaks about his family, consisting of his wife, two sons and four daughters. He is very proud of his second son, who is following in his father's footsteps. This young man, just 24 years old, already is Im Bun Theon's chief student and he is showing signs of a great future. Although this musical pioneer is nearing the twilight of his career, it is clear that his legacy is only just beginning.