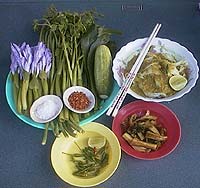 Many people enjoy eating Khmer noodles as much as they like taking an evening stroll. In that case, sitting down for dinner in Phnom Penh may feel as comfortable as slipping on a pair of walking shoes. Noodles are best when served fresh, but their rich history gets better with time.
Khmer Nom Banchok noodles are at least several centuries old. History buffs believe that a man named Thon Chey had served the Chinese king Khmer noodles when he was in China and was imprisoned for insulting the king's looks. Thon Chey was later released to return to Cambodia bringing along with him thousands of Chinese immigrants.
"The Chinese immigrated to Cambodia in the Third Century," according to Pon Chay, a senior Khmer lecturer, so that goes to show how long the Khmer noodles have been around.
The noodles have grown in popularity both with locals and foreigners alike. "It is a really delicious Khmer food," said B Stave, a Philippine national, with a noodle in his mouth. "I like it and I always come here when I have free time."
The appeal of Khmer noodles not only cross physical borders, but socioeconomic ones as well. Rich and poor farmers, students, or government officers all can afford to slurp up the same meal. "The price varies from one place to another, but one dish usually costs between 1500 and 2500 riel," said Toch, a 32 year-old noodle seller in front of Bottum Vatey pagoda. She said noodles are popular since they are easily prepared for small or large parties. "My children always ask me to make them when they come home to visit," she said.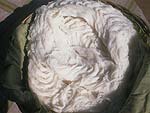 Traditional noodles can be eaten with Samlor Khmer (Khmer soup), Samlor Kary (Curry), or plain with fish sauce. Kim Sansopack, a student, likes variety in his diet. "I like my noodles with Samlor Khmer because I can go along with it without feeling bored like with other Samlor, and especially because it has a very good smell."
Vann Tha, who has been making noodles for as long as she can remember, explained how to make Nom Banchok noodles. "At first we have to clean rice and put it in hot water to make it soft and grind it with a small amount of salt," she said. "Then place the mix in a soft cotton cloth to filter out the water. Fold the cloth with the mix in it and press it under a heavy object to get rid of excess water." The mix should be dry but sticky. She then pounds the dough until it becomes very soft and sticky, at which point she presses it into a dispenser made with holes at one end. The dough is squeezed through the holes, from which it falls in strips into boiling water. To ensure that the noodles do not stick together, an assistant stirs and lifts them from the boiling water into a pail of cold water, where they become less starchy. The noodles then are placed on a tray and folded neatly into what consumers see sold in stalls on the street. "It is really quite a tedious process," Vann Tha sighed.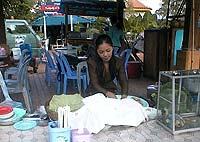 Making Samlor Khmer is a little easier. For newcomers to the business, noodle maker Chann explained how to prepare the Khmer soup. "Boil a pan of water with lemongrass and a pinch of salt," she said. "Then put fish into the water for about 10 minutes, removing it to separate the meat from the bone." Her secret to success is a handful of chopped citronella, a pinch of saffron, one gram of peanut or garlic, and some slices of Kchaye (a type of plant). She places the spices in a mortar and grinds them into a paste, which will be combined with the fish. Prahok (Khmer cheese), sugar, and salt are then prepared. Hungry bellies are growling by now. "Put the Khmer cheese, spices, and everything you've prepared in the water and let it all boil for about 7-8 minutes. It's that simple," she said. Distant observers may disagree.
According to these experts, the preparation and serving of noodles has changed little over the years. Rich and poor across the region can attest that Nom Banchok Samlor has proven the test of time.