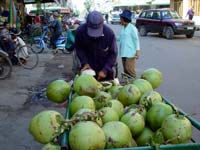 When pedestrians hit Phnom Penh's crowded streets, they must be prepared to dodge noodle vendors, fruit sellers, sunglass hawkers, and moto drivers. Independent entrepreneurs are a common sight throughout the Cambodian capitol, which has become a nesting ground for fledgling businesses.
Observers claim Phnom Penh's lawless business culture yields a lucrative trade of unofficial moneymaking. A small amount of start-up capital, sound business knowledge, and a strong drive to succeed are the ingredients for success, some say. Baking Chinese pies, bread, or selling groceries in the market require little money or skills, but a lot of commitment.
Thai On, 55, is a cereal retailer in Oresey Market. "I have been doing such a small business since 1981," she said.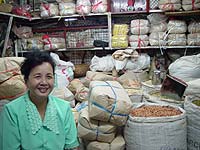 "Although it is not as profitable as selling vegetables or fruits, this small business can support my family in an easy and suitable way." She said conducting business presents opportunities for both loss and gain, but she has never felt hopeless. Despite early financial difficulties, Thai On has successfully expanded her business into two cereal stores, selling between 20 and 30 types of cereal every day.
"On average, I can sell between 100 kg and 200 kg a day, and most sell well. The best selling items are soy beans, peanuts, red and green peas," Thai On said. "Soy beans can be made into soy bean juice, while peanuts are used to add more flavor to various meals. Red and green peas are especially used for dessert."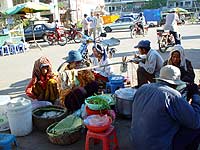 These tasty morsels are distributed from Kampong Cham, Battambang, and Kampong Tom provinces and can cost between 600 riel for red corn and 2200 riel for peanuts. "It is a small profit margin, but I am self-employed," Thai On admitted. A young man selling electronic gadgets in Phsa Thmei, a Phnom Penh market, has plenty to say about doing business in this bustling city.
"I have been operating my own business for ten years. Although it is not as profitable as selling jewelry, I can live happily and independently with my earnings," said Chea Leng, 33, a watch seller.
He is proud that his earnings pay not only for his expenses, but his mother's expenses as well. "I am the one among my seen other siblings who has not gotten married," said Chea Leng.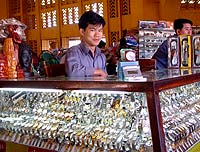 He earns his spending money selling a variety of model watches, including Rado, Rolex, Elegant, and Omega. Female shoppers have made Elegant a best seller, paying up to $50 for a timepiece. Men are happy to pay between $50 and $70 for Rado watches, the favorite among sophisticated gentleman. With these prices, Chea Leng can make between $200 and $300 dollars a month. He said he is lucky because he has never dealt with a fluctuating watch price.
Chea Leng has long favored being an independent businessman. "I first wanted to work with a fixed monthly salary as other blue collar workers do, but I did not have that much knowledge and I don't read and cannot write letters," he explained. "That is why I decided to start my own business.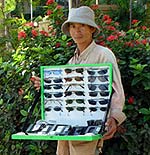 " Although he is not armed with the skills necessary to be competitive in a mainstream company, Chea Leng has the common sense carve out a place for himself at the market. He is satisfied with his accomplishments so far and envisions expanding the business. "I will take my small business to a larger scale so that I can improve my living condition and build up my family," he said confidently.
In a country that offers little opportunity for economic gain, these small-time entrepreneurs are proof that innovation and determination are priceless.