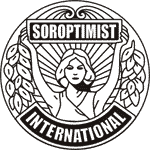 Why are thousands of women in 123 countries Soroptimists? The answer is that collectively as members of Soroptimist International they can achieve a better way of life for women and their families in many parts of the world through their service projects.
The next question must surely be . . . Who are these Soroptimists who give their time and expertise so freely? They are business and professional women working at local, national and international level addressing the concerns of today's world . . .combating HIV/AIDS, helping LANDMINE VICTIMS, supporting REFUGEES, providing HEATH CARE, educating CHILDREN, stopping TRAFFICKING of women and girls.
Formed in 1921 with members on all continents, Soroptimist International could appeal to Cambodian women looking for an international organisation through which to channel their energy in working for the benefit of others. In South East Asia there are many Malaysian, Singaporean and Thai Soroptimists working through service projects to advance human rights and the status of women.
AWARENESS, ADVOCACY and ACTION is the driving force that inspires Soroptimists to work in its six programme areas . . . education, health, environment, goodwill and understanding, human rights, economic and social development. They speak with one voice on these and other issues through Policy Statements, yet every Soroptimist club is autonomous. The international rules would fit on one small page.
In Asia much is being done by Soroptimist International to help combat the HIV/AIDS pandemic. Soroptimist Lucy Loh Wong from Malaysia has been conducting AIDS Education Workshops mainly for young people since 1994. There are also Facilitator Training Workshops and a Training Manual has been produced in several languages including English and Mandarin. Lucy's work with AIDS prevention has taken her far afield to China, Singapore, Inner Mongolia, Thailand, and Australia and of course Malaysia, where she is a member of the Soroptimist Club of Bangsar.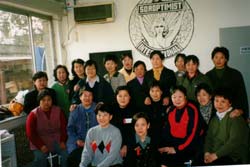 On a world level AIDS is also a focus of Soroptimist International. The Aids Mediation Project, (1995-99), targeted girls and young women in northern Thailand providing AIDS education and income generating projects as alternatives to entering the commercial sex industry. Whilst the current International President's Appeal asks members to support a Medecins Sans Frontieres HIV/AIDS project in the Ukraine. This will take the form of prevention, advocacy and treatment for mothers and children. In the case of HIV+ mothers-to-be, the chances of their baby being infected with the virus can be reduced from 30% to 8% with drug treatment before birth, and elective Caesarian section and treatment for the baby after birth. The United Nations estimates that 400,000 people in this part of the world are already infected with HIV/AIDS.
Soroptimist International service takes many forms. Four years ago at the World Convention in Helsinki, Finland, members voted to support the LIMBS for LIFE Project in conjunction with the International Red Cross to provide prosthesis and rehabilitation for land mine victims in Afghanistan, Georgia, and Angola. The goal was to raise US$500,000. This sum has been long achieved and a million dollars is not impossible before the project ends late in 2003 at the next Soroptimist International World Convention in Sydney, Australia. But it will not end there . . .the work will go on providing prosthesis and training to enable victims to lead a full and useful life.
On a lesser scale Soroptimists in 1983 raised US$10,000 to help Khmer women refugees on the Cambodian/Thai border. On this occasion Soroptimists worked through the United Nations Border Relief Organisation and the Khmer Women's Association to develop a sense of self-sufficiency and human dignity among the women refugees focusing on child care, literacy and vocational training.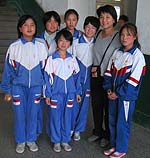 However Soroptimist aid can also be much smaller, and just as effective - a children's playground, radio communication for isolated women, a prevent family violence campaign, supporting widows in the fight against poverty, cleaning up a canal carrying used water. . . are typical examples.
Best Practice Awards see clubs all round the world praised for their efforts which encourages others to vie for these coveted annual awards - there are NO prizes. One recent award project started 15 years ago in North Bombay where club members adopted the Pali Chimbai Municipal School for under privileged children living in slums. The Club provides a special room for the slum children, a full-time social worker, language coaching, a library, and a computer as well as notebooks, uniforms and snacks. You may think on reading this that Soroptimism is work, work, work! But no, fun and friendship play a major role . . . at local level and beyond. Wherever there are clubs Soroptimists from other lands are always welcome. Committed to the principles of The Beijing Declaration and Platform for Action; Universal Declaration of Human Rights and the Convention of the Rights of the Child, Soroptimist International is truly a world wide service organisation for women who care. There is a place for Cambodian women amongst the membership. Lorna Mead, Membership/Extension Convenor for the Federation of the South West Pacific, is working towards the creation of clubs throughout the Asian countries. As a Soroptimist volunteer, she identifies issues for women, while at the same time, organises new clubs. As Soroptimists community women have the opportunity to create links and opportunities to develop local projects. Membership allows them to participate as members of a highly regarded, global organisation which also facilitates friendship with women of other countries. Such factors are integral ingredients of membership, and members worldwide develop better cultural understanding. The organisation provides a voice for members through its different structures and project partnerships with other Non-Governmental Organisations. Lorna travels widely, helping establish clubs in Mongolia, Malaysia, Indonesia and the Solomon Islands, as well as currently assisting with HIV/AIDS projects with Beijing women. She can be contacted through the Federations Headquarters in Sydney at siswphq@oxemail.com.au .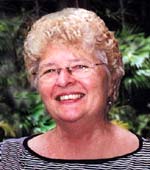 Soroptimist International is divided into four Federations under the Soroptimist International banner - Soroptimist International of Europe, Soroptimist International of the Americas, Soroptimist International of Great Britain and Ireland and Soroptimist International of the South West Pacific, whose names belie their boundaries. For instance The South West Pacific currently comprises eleven countries . . .AUSTRALIA, FIJI, HONG KONG (Peoples Republic of China), INDONESIA, NEW ZEALAND, PAPUA NEW GUNINEA, MALAYSIA, MONGOLIA, SAMOA, SINGAPORE, SOLOMON ISLANDS.
The first South West Pacific club was being formed in Sydney, Australia in 1937 and in Wellington, New Zealand two years later.
Soroptimist International's connection with United Nations goes back decades. Our representatives are seen at all UN conferences taking full advantage of the position we hold. Having General Consultative Status with ECOSOC, Official Relations with the World Health Organisation (WHO), and as a member of the CONGO Board, Soroptimist International has the power to influence not only on special occasions but on a daily basis. There are permanent Soroptimist International representatives in New York, Vienna, Paris, Geneva and Rome who can make Soroptimist International's point of view known on the issues of the day to UN officials, policy makers and government representatives who have the vote to change things that affects you. Yes, Soroptimist International has the power to make a difference.
* What does Soroptimist mean - it is an amalgamation of Greek and Latin - soro (sister), opto (best) - roughly translated meaning women doing their best for women and their families wherever the need exists.
* While Soroptimist International is concerned with international and national issues, it has a policy of strict neutrality on political controversy between nations, party politics and sectarian religion. It is an organisation where women from many backgrounds and creeds can meet as friends to serve others.