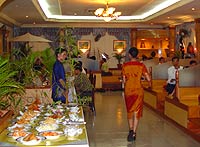 Catering forged ahead and continues to grow both in dollars and its share of the food service industry. Changes in the business, including mobile kitchens, box lunches, and growth of supermarket catering services, have transformed catering into what many refer to as the "recession-proof" segment of the foodservice industry.
Creativity has had much to do with catering's success. As budgets grew smaller for both business and social occasions, creative menu option, menu substitutions, self-serve formats, and smaller portions helped caterers to retain and add even more business. Caterers have a special advantage, because they know generally how many people they must prepare for and what the menu will be.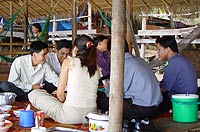 This lets them estimate fairly accurately how much food to order and cook, eliminating waste. Catering has become so appealing that everyone with a kitchen seems to be getting into the act. Hospitals and schools are begging to use their foodservice utilities and staff, especially during downtimes, to increase revenues.
While catering's rewards may be great, it has its drawbacks. Increased competition in an already pressure-packed Industry is more than some can handle. Also restaurants that cater have to guard against devoting too much time to catering at the expense of their restaurant business.