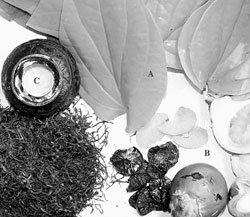 Sitting serenely in her doorway with an old, worn betel basket on her knee, Ourng Long, 67, of Siem Reap province, is ready to begin folding betel leaves in preparation for chewing after her family's dinner. The Cambodian tradition of chewing betel leaves, areca nuts and tobacco is age-old. The older generation used to advise people to chew betel, areca and tobacco, as it was thought chewing would help maintain good dental health.
Cambodian people still preserve many of the traditions handed down to them by their ancestors. Many still play the same games at festivals and holidays as their great-grandparents did in the past. Chewing betel leaves, areca nuts and tobacco is another of these traditions inherited from the generations of the past. Now, health organizations are becoming concerned about the dental dilemma facing Khmer people when they decide to chew betel, areca or tobacco. Many is simply not aware that there is a dental health issue surrounding the habit of chewing. The Ministry of Health, NGOs and local organizations are helping to promote more awareness of dental care. Yet it seems unlikely any health message will persuade people who routinely chew the nuts and leaves to change their ways.
People who regularly chew betel leaves, areca nut and tobacco generally do not visit dentists. They tend to live in rural villages, and be far away from their nearest oral hygienist. But some believe that chewing betel leaves, areca nut and tobacco can actually safeguard the teeth from diseases. Ourng Long certainly thinks so: "I started chewing when I was 20 years old," she said. "And I have never had any tooth pain or other problems at all." Khmer people have munched on betel leaves and areca nuts since ancient times. Centuries ago, people would munch on betel and areca together, and then spit out a blood-colored mix of saliva and the chewed-up leaves and nuts. Afterwards, they would chew tobacco. There are no documents that state when this tradition began, and nobody seems to know where it originated.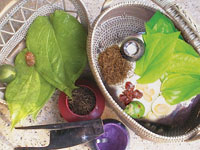 Ourng Long describes how she picked up the habit: "I saw my parents chewing, and so I followed their routine," she said. Few can describe the way chewing the nuts and leaves tastes. It's a bit like smoking - people chew for pleasure, especially after a meal or during family meetings. "I chew it after my meal and I do this not because it is delicious but because I have nothing to do so I just chew it to get pleasure," said Uch Thouerng, 75, of Kandal province.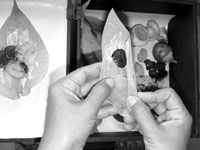 Sometimes people in the countryside serve betel, areca and tobacco to houseguests and monks in the pagoda. Chewing also plays an important part in traditional wedding ceremonies. The bride and groom's parents exchange betel leaf and customarily chew the stuff to signify acceptance of each other's children into their family. It's like a signing ceremony of sorts. Currently, many elderly people still carry on the custom of munching betel leaves, areca nut and tobacco. But very few young Cambodians munch on the leaves and nuts these days - most think of it as a dirty habit, and not a particularly attractive one. Nowadays, teenagers are more likely to smoke cigarettes than munch on betel leaves like their ancestors. On the contrary, their grandparents think munching leaves will protect them from toothache and bad breath. "I never clean my teeth like other people and I never have any dental problems," Uch Thouerng said. She started chewing betel leaves, areca nut and tobacco when she was 55 years old. Normally she chews for about five minutes, spits the mush out, then chews tobacco for about five minutes. She also cleans her teeth with tobacco.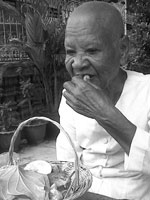 Different people like to chew for different times. Ourng Long munches betel leaves with areca nut for about ten minutes, spits them out and then chews tobacco for about half an hour. If you are interested in munching on leaves and nuts, you should give it a try. Betel leaves, areca nut and tobacco are available all over Cambodia, and are very cheap. First, take one betel leaf painted with lime, and fold areca nut inside it.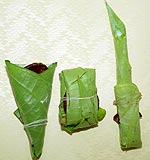 This is not too complicated - it's a bit like eating a hamburger. You just munch on it for two or three minutes, then spit out. Afterwards, chew tobacco leaves for about ten minutes, then spit them out too. The tradition of munching betel leaves and chewing tobacco is a positive one, since no one has proved there's anything harmful about it. It's something that attracts locals and foreigners to find out more about it. Some people might think that it's a dirty habit, but it isn't, it's a valuable tradition that people just can't stop doing. All Khmer people like preserving the things that our ancestors left behind. The tradition of chewing betel leaves; areca nut and tobacco will remain within our culture for many years to come.