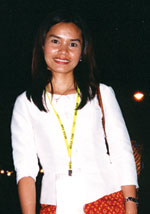 Last month, I was among five lucky Cambodians selected to visit Malaysia as guest participants of the Mega Familiarisation Tour Program, run in conjunction with Malaysia Open House 2002 and sponsored by Malaysian Airlines and Tourism Malaysia. We toured the Malaysian capital, Kuala Lumpur, went to Seremban to attend a Deepavali ceremony and visited the beautiful resort of Langkawi. Being guests, our travel arrangements, accommodation and meals were all taken care of by our hosts, and we all agreed that the hospitality extended to us was outstanding. We were thoroughly pampered from day one, and left thinking Malaysia is a truly amazing country.
The entire trip was a fantastic experience, since Malaysia is a fascinating country with a great deal to offer the visitor. I personally was most impressed by the multi-cultural harmony that we witnessed there: I congratulate Malaysia for achieving it so well. Our guides informed us of the many different festivities, both religious and social, that are celebrated in Malaysia and explained that people usually invite friends of other races or religions to celebrate with them. Such harmony is truly an inspiration. Attending the Deepavali Open House in Malaysia gave me a fresh understanding of the concept of a festival. For the past two years, I have had the good fortune to be invited by an Indian friend in Phnom Penh to celebrate the festival of lights - known to Hindus as Deepavali - at her family home. But I had never understood the idea of a festival better, or seen such demonstrations of glamour and joy as I witnessed during my trip to Malaysia.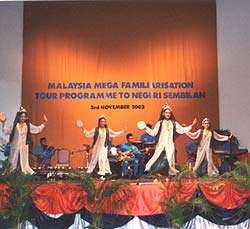 In nations around the world, festivals are occasions for rejoicing and celebration. But in multi-cultural Malaysia, festivities, especially religious ones, are celebrated on a grand scale. Influenced by religion, mythology and culture, Hindu families in Malaysia celebrate Deepavali in high style. They burn lots of little oil lamps in their gardens and invite their non-Hindu friends to their homes. Together they celebrate the festival with feasting and laughter. Although Cambodian culture has many Hindu influences, Khmer people do not celebrate the festival. So I thought I might explain a bit more about Deepavali. Known to some as Diwali, the words literally mean 'an array of lamps'. It is celebrated on the darkest night of the 'Karthik' month of the Hindu calendar, which falls around late October or early November. Some say it's a celebration of the triumph of light over darkness, or good over evil, which occurred when Lord Krishna killed the evil demon 'Narakasura'. Another legend has it that the festival commemorates the return of Rama to his kingdom Ayodha after a 14 year exile, as described in the Ramayana epic. The people's joy at the return of their beloved prince was expressed by the lighting of lamps all over the kingdom.

The festival also marks the end of the Indian monsoon season and the beginning of winter. With harvest done and the previous year's debts cleared, it is the perfect time for people to welcome fortune and prosperity into their homes. Thus Deepavali is a joyous celebration, designed to invoke the blessings of the Goddess of Prosperity. In Malaysia, Deepavali is celebrated with much ceremony, and is greatly enhanced by a multi-racial society that revels in any opportunity to celebrate. Hindu families open their doors to friends of other races, inviting them to savour the myriad curries and sweetmeats synonymous with Indian cuisine. On our visit, we were treated to an open house hosted by the Malaysian Ministry of Culture, Arts and Tourism, and enjoyed the most delectable spread of Indian delicacies. The occasion was officiated by their royal Majesties the King and the Queen of Malaysia, and graced by the Deputy Prime Minister, Minister of Culture, Arts and Tourism and the Chief Minister of the Negeri Sembilan. My entire visit to Malaysia remains the most colourful and joyous festivity I've ever attended. The entire trip was in itself a celebration: Thank you Malaysia.