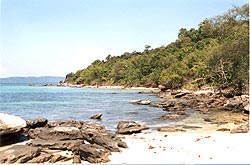 The pulse of life has two beats. One is work. The other is play. A slave to either the former or the latter is a stranger to the state of balance. A friend to both beats walks to the rhythm of a life aligned.
When the hum of an office becomes more familiar than the buzz at home, it is certain that work has nestled too deeply into one's lifeblood, and the call to rest is no longer a novelty but a necessity. Travel, even a short day trip, can serve as a quick remedy to the burnout that so often accompanies a life offbeat.
To reestablish a balance between work and play, a journey to the unpolluted beaches of Koh Takiev and Koh Russei, off the coasts of Sihanoukville and Kampot, may be the answer weary workers are looking for. Colorful choral and fish occupy the shimmering blue water and soft white sands more than visitors do.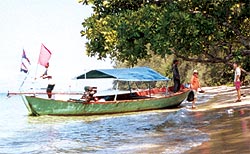 Crowded buses depart from Phnom Penh to Sihanoukville and Kampot each weekend, carrying sun-seekers to well-known beach towns where they will collect memories like seashells. But few have passed beyond the main beaches to where 58 nearly untouched islands hang like baits on a fisherman's line.
These offshore getaways likely will be developed into tourist destinations in the future, but until investors realize their potential, the isles of Kampot and Sihanoukville remain relatively unchartered territories.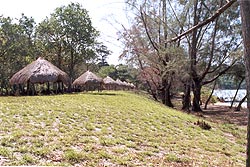 A trip can be quickly arranged to these easily accessibly islands, and most would recommend staying at least a night or two to fully take advantage of Koh Takeiv and Koh Russei's natural splendors.
Coral reefs rest beneath the warm waters, leading up to beaches worthy of a midnight romp. Although Koh Takeiv is better known and more appreciated than Koh Russei for its scuba diving possibilities, both boast long, calm beaches.
A fishing boat can carry adventurers to the ocean's two pearls in about an hour after departing from Ocheuteal beach at Ream National Park, which is the most economical sea depot to use. The 10 km journey begins each morning at 8 am and is made by fishermen who rent out their services for varying prices. Rates depend on the number of people making the trip. Three people likely will pay $15 a piece for a day trip, but overnight visitors can count on paying more.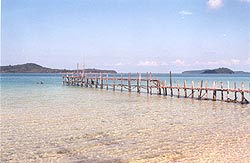 Boat captains are happy to scout out other islands if so desires, but they will be keen to call 4:30 pm the end of their day. The cost of the trip is well worth it, since it entails a guided boat tour in the salt-sea air, a meal, drinks and sea equipment. Seasoned day-trippers suggest packing your own diving equipment and lifejacket to make the most of the underwater scenery, and special dietary requests should be mentioned to your tour guide or driver before departure.
As the boat putters along to Koh Takeiv, the tour's first stop, the driver will point out places of interest that have become as familiar to him as the scars on his hands. If aboard, a local tour guide will use impressive English to interpret the driver's gesticulations so that newcomers may see, if only for a moment, through the knowing eyes of a weathered fisherman.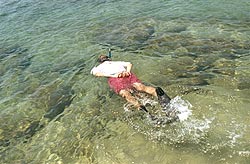 Small islands break up what would be an endless sea (and journey) leaving travelers surprised when both 9:30 am and Koh Takeiv roll onto the horizon.
Koh Takeiv's beach is so breathtaking upon landing that, like a sea siren, it entices visitors to stay longer than the allotted two hours. A short walk down the right side of the shore carries visitors to a small wooden bridge perfectly suited for fishing or diving. Thousands of fish are a flurry of activity beneath the calm sea here. A similar underwater landscape may be seen on the other end of the beach, where diving is especially good. Once the sun and sea have replaced explorers' energy reserves with a rumble in their stomachs, a delicious lunch will be prepared for consumption on the warm white sands. A half hour later, a final call for diving is given before the boat will travel onward to Koh Russei, where coconut trees sway on the beach like old friends welcoming you home.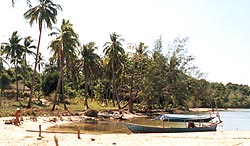 Visitors also will spy living residents - friendly, unarmed soldiers and their wives - who live on the island as guards. Diving is not an option here, but beach-lovers will appreciate watching the timeless flirtation between the shore and its wandering sea. Using the goldenrod sun, as it slips into bed beneath the sky's horizon as a timepiece, the boat's captain will call visitors back for the final journey home.
This short trip to sea will have left visitors with salt in their skin, sun in their hair and the two beats of life restored as surely as the sea meets the shore.