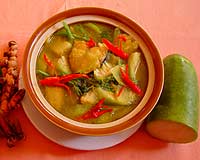 Samlor ProrHal is a kind of Khmer food traditionally made by people who live in the countryside. The dish is often served at times of celebration, during religious festivals or on special occasions, when city-dwelling family members come back to visit their hometown. If someone from the city takes a foreign friend back to his village, he might ask his family to make Samlor ProrHal for them, because he can be sure a foreigner will never have tasted anything quite like it. It's a really traditional Khmer dish that is often prepared at home, and usually eaten at lunchtime. But the most important thing about eating Samlor ProrHal is that it is enjoyed with family or friends - it's a dish made to celebrate spending time with people you love. There are lots of different kinds of Khmer food, but Samlor ProrHal is generally regarded as the best Cambodian cuisine has to offer.
Him Narin, chef at the Khmer Kitchen restaurant in Phnom Penh, explained how it's made: "Take a handful of chopped citronella, a pinch of saffron, a few crushed cloves of garlic and some slices of Kciey (a type of ginger). Put all the spices in a mortar and grind them to a paste. Then prepare pumpkin, amaranth, sponge gourd, fermented fish sauce and about two grams of white fish, and you're ready to cook," she said. "Next, boil a pan of water," she continued. "Put the fish, vegetables and spices in the water and let it all boil for about 7-8 minutes."
Sounds simple enough - but don't be fooled. "Cooking Samlor ProrHal isn't easy - in fact it's very difficult," Him Narin warned. The traditional soup needs a lot of careful preparation, and it takes an expert to get the balance of flavors just right. "It's not for people who are lazy: the soup needs a lot of vegetables and takes about twenty minutes to cook," she said.
The finished soup doesn't look particularly appetizing, but once you've tasted the delicious, fragrant broth, you may find you can't stop eating it. Some say that Khmer people cry when they eat the soup because it makes them miss their homeland. The real reason they may shed a few tears is perhaps because some people prefer it to be extremely spicy! "The cook should put lots of chilies into the soup when it's boiling if they like it hot," Him Narin said. "This gives it an extra flavor, and better befits its name - Samlor ProrHal means 'fragrant soup.'" Khmer people regard the dish as their national food, so when they eat with foreigners, Samlor ProrHal will definitely be on the menu. "I want foreigners to try real Khmer food," Him Narin said. "I don't want them to say that they came to Cambodia but didn't try Samlor ProrHal."