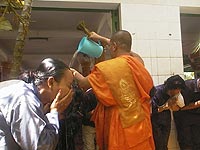 Since ancient times, Khmer people have believed that Buddhist monks can avert danger from people, heal their sickness and change their luck. Even on ordinary days, people would go to the temple to receive cleansing from monks to improve their luck.
Ms. San Kimngin, who sells sundry products at Phnom Penh's Psar Thmei market would readily agree that a person's luck can be changed. "I have come here to the Samrong Andet temple to ask the monk to perform the Ramdoh Krouh ritual to improve my luck," Ms. Kimngin said. "I think it is effective, because my sales have increased greatly since the last time I performed this ritual," she added. Since ancient times, Khmer people have believed that Buddhist monks can avert danger from people, heal their sickness and change their luck. In Cambodia, many people like Ms. San Kimngin will vouch that bad luck can be transformed and changed into good blessings once monks perform the Ramdoh Krouh ritual, which can destroy illnesses, change bad fate and grandeur people can afford for their ritual ceremony.
"Buddhism is Cambodia's national religion - most Khmer people are Buddhist," said Keo Mony, a monk at Samrong Andet pagoda in Phnom Penh. Buddhism entered Cambodia from India, and the Romdoh Kruoh ceremony combines Buddhist and Brahmin religion. Buddhism does not refer to demons or spirits, but Hinduism and Brahmanism do. Over centuries, Buddhist, Hindu and Brahmin beliefs have become mixed in Cambodia, producing a religion that includes spirits, ghosts, demons and rituals. We can see the influence of Brahmanism in the reliefs of the Bayon temple in Siem Reap's Angkor complex.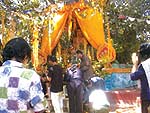 Keo Mony added that "There is a good mix of Buddhism and Brahmanism in the rituals: the Buddhist tradition of praying is combined with the Brahmanist tradition of making offerings." The benefits of the Pithy Romdoh Krouh ceremony "cannot be scientifically proven," warned Keo Mony. "Modern people find it hard to believe," he continued, "but when confronted with real problems such as a strange sickness or a spell of bad luck, most people would still turn to a monk or the Achah." Most Khmer people go by the saying, 'You'll never know if you never try'. After all, it doesn't cost that much to give it a shot. "The relief from harm and danger by an Achah or senior monk can be effective if we really put our mind and hearts in it and have faith," Monk Keo Mony assured.
Here are some of the things that you'll need to perform the ritual to rid a person of bad luck: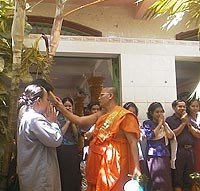 First Stage - (believed to be Buddhist-influenced):
- A couple of Baay Say (sections of banana tree trunk)
- A couple of Slaa Thoa (a whole banana tree with leaves or a bunch of green bananas on a stand decorated with betel leaves, areca nuts and flowers)
- Two bottles of perfume
- Five yellow candles
- Five popped grains of rice (similar to popcorn)
- Five flowers (usually Lotus flowers)
Second Stage - Offering to the Spirits (believed to be Brahmin-influenced):
- Eight portions of Slaa Thoa
- Eight bottles of perfume (placed around the person being blessed)
- One Pem Chous (a small bed that is made from a banana stem; its length is measured by the distance from elbow to the wrist of the person being blessed, and its width is the person's body width). On it is placed food and a human figure molded out of flour. This figure represents the person being blessed, and is burned to release danger.
- One white cloth (the length should be 4 times the length of the bed)
- Uncooked rice measured in small proportions (usually a small bowl) according to the age of the person being blessed.
- One large copper or silver bowl, which perfume is dripped into, again according to the age of the person being blessed.
- Sand, to make a small sacred hill after the ceremony.
All the above items are prepared and arranged in front of the holy men. Often people invite a monk and an Achar together to perform the ritual. The two men will say prayers and burn the human figure, to repel and destroy all kind of demons from the individual. Strange as it may seem, after the ritual most people feel recharged and genuinely believe that their luck has changed for the better, that their body is relieved of any earlier illnesses and that they are happier. Although the true origins of the Pithy Romdoh Kruoh ritual have never been really verified, it looks like the ceremony is definitely here to stay.