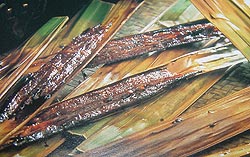 A typical Cambodian meal normally consists of soup, salad, a main fish dish, vegetables and rice. Cambodian dessert, normally made of fresh fruit and sticky rice, complements the main courses. Num Chak is one Khmer dessert made from sticky rice and is available primarily in Kampot and Sihanoukville. Michelle Tranet, Undersecretary of State of the Ministry of Culture and Fine Arts, said it is difficult to explain why the dessert is found on so few dinner tables.
"I have not discovered why Num Chak is seen available only in Kampot and Sihanoukville", he said. Although he offered Leisure little help to discover the origins of the delicious treat, rumor has it that the Chak trees needed to produce Num Chak grow only in these two provinces.
Ingredients:
* 250g red sticky rice flour
* 125g white rice flour
* 100 g palm sugar
* 150 g cast sugar
* 2 cups grated coconut
* ½ tsp salt
* Chak (nipa palm) leaves small bamboo sticks
Directions:
Mix the sticky rice flour, white rice flour, palm sugar and caster sugar together in a large bowl. Add the grated coconut and salt, and mix again. Cut the Chak leaves into 25-cm strips, wipe clean and fold in half along the hard vein in the center of the palm leaf. Fold again into quarters. Open the palm leaf, cut off one quarter of the leaf and throw away.
The remaining leaf is now divided into three sections. In the first section, spoon 1 tbsp of the mixture in the center and flatten out. Fold over twice. Turn in the ends and pin with a small bamboo stick. Cook on a grill over a low flame for 10 to 15 minutes. Enjoy!
This recipe can be found on p242 in The Cuisine of Cambodia by Nusara Thaitawat.