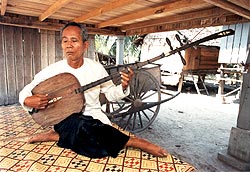 Holding a Cha Pei Dong Veng on his left hand and strumming away with a piece of white bone with his right, 45 year old Neth Phe seems to have transcended to a world of his own as he chants enthusiastically about gossip and every comical event that had happened in his commune. Positioned comfortably on the same armchair that he has used, for as long as he can remember, a happy face constantly portraying a different expression as he chants. Is it truly the sweet music of the Cha Pei Dong Veng that people come to listen to with its the jokes and legendary stories that are main-stream entertainers. Sometimes more serious issues become topics of interest and the musician is obligated to chant to the audience's fancy. The Cha Pei Dong Veng musician has to be a rather knowledgeable person all in all. One has to have good general knowledge and be informed of developments in day-to-day affairs to truly satisfy the audience. Inside the small wooden house where Neth Phe lives, two Cha Pei Dong Veng instruments hang snugly on the wall. "This is not a good season for me," said the calmly 45 year old. "I am very free for the moment, but come November through to April next year, I will have many invitations to perform because there are many ceremonies during that period. "A Cha Pei Dong Veng is a long guitar-like instrument with only two strings. The player usually plays the Cha Pei and chants text from famous literature, jokes or stories as he strums.
Although modern pop music may have contributed to a lesser the demand of the Cha Pei musician, many people still find them to be very entertaining as can be verified by the laughter and obvious enjoyment displayed by the audience at some public ceremonies. In the past, poetry is recited in the accompaniment of the Cha Pei Dong Veng and amongst these musicians, they sometimes get together to pitch their wits one against the other as they strum the Cha Pei. This is what people find to be most entertaining and perhaps what keeps the tradition alive. Maybe not in urban Phnom Penh, but in some provinces, Lieng Areak ceremonies are rather common. At such ceremonies, the Cha Pei Dong Veng is usually played with other traditional Khmer instruments like the Skor, the Koung and Chhing to invite spirits from beyond to come and take possession of a medium's body for consultations.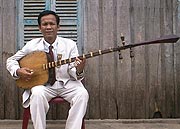 Although, there is no account of how the Cha Pei Dong Veng came about or why people even invented it, according to Professor of the Music Faculty, Mr. Mao Phoung, the Cha Pei Dong Veng was invented during the time of the Buddha. "There is no specific documentation about the Cha Pei Dong Veng," said Mr. Mao. "Cha Pei Dong Veng may have been invented to lull children to sleep. Whatever it is, the Cha Pei Dong Veng 'Chanters' or musicians have contributed well to society in that they often teach good morals and help educate young people to do the right thing," he said. In a National competition held in Phnom Penh in 1991, Neth Phe won a gold medal when he chanted Khmer Proverbs with his Cha Pei Dong Veng.

He recalled the days before he became famous and lamented his past, complaining about having to study literature and poetry, strumming simultaneously as he chants. Neth Phe was a Khmer traditional musician who performed at wedding ceremonies until one day when his fellow villagers asked him to perform the Cha Pei Dong Veng at one of the villager's wedding. "Since then I started to take it up seriously, hoping that with the Cha Pei Dong Veng, I would be able to make more money," Neth Phe said. "I never thought I could become a successful "he has to tune his voice to the rhythm as he strums," he complained. However, he was fortunate to have studied under a well-known Chanter in his village for three months and from hints he gathered, he quickly became the skillful musician he now is. According to Neth Phe, the Cha Pei Dong Veng was no ordinary invention; legend has it that the Cha Pei was brought to earth from heaven when the Buddha was ill. The Cha Pei Dong Veng is said to represent the dragon. "The angels came from heaven with the Cha Pei to perform for the Buddha," he said.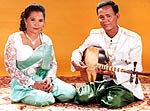 Today, many people invite him to perform at ceremonies such as weddings, the inauguration of a pagoda or at other religion festivities. He performs according to the request and suggestion from the people who invite him but there is always a lesson to be had through all his performances, he said. "I always chant text from Khmer literature and poetry to educate the people; teach children to love their parents and urge husbands to love their wives," said Neth Phe. "Each performance usually lasts for about an hour and a half and I get paid $150," he said. "I can support my family this way and this is only because many people like my work." "I want to start a training class for students who want to learn to play the Cha Pei Dong Veng," he said. "I want the government to offer food to the students and I will teach for free because I am afraid that we may lose this tradition to time."
Royal University of Fine Art has set up a five year course; a first ever for two subjects -- Cha Pei Dong Veng and Ayai for academic year 2002-2003. Vice Rector of the University, Mr. Proeung Chhieng said that the idea to set up the course came about because some of the Cha Pei Dong Veng and Ayai chanters today have abused the tradition and often use sexually connoted phrases just to make people laugh and this is corrupting the tradition.
Dean of faculty of Music, Mr. Veng Phat said that the University will select 20 new students for the first academic year. The selected students will be trained on Khmer Literature and popular poetry so they can chant properly and keep the traditions alive and pure, he said. "We train people to sing politely and avoid the use of immoral and abusive language," said Veng Phath. "I never used sexually connoted phrases in any of my performances; I always avoid those kind of lines," said Neth Phe. "I never used sexually connoted phrases in any of my performances; I always avoid those kind of lines," said Neth Phe. For the moment, Neth Phe is constantly looking out in the provinces for students who are genuinely interested to learn his skills and hope that the traditions can be passed on so that the sweet sounds of the Cha Pei Dong Veng can continue to be appreciated for many more decades to come.