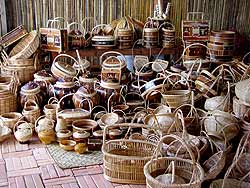 With only a small sign posted at the junction of the muddy track that leads to her home and showroom, In Sokha runs a business few would imagine to be doing very well. Although not advertised in the telephone book, this small woman in her fifties is in fact running a thriving business - and helping to create jobs in her local community. Despite looking very unlike any conventional center of commerce, the Bayon Business Center is now well known in Japan and some parts of America for the high-quality wood, rattan and bamboo products it exports wholesale. It all started about two years ago, when In Sokha was persuaded by a friend to help a group of people with some money to start a small basket weaving business near her home. The business soon landed solely on her lap when the people she had helped, lost interest.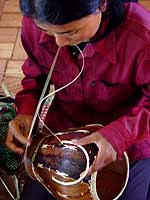 Instead of just giving it all up and retire to take care of a small sundry shop she owns, In Sokha expanded on the enterprise and employed more workers to make little giftwares out of rattan and bamboo. Today she is providing jobs to about a hundred people in her neighborhood. Last month, she was invited to show her products at the 54th Tokyo International Gift Show organized by the ASEAN Promotion Centre on Trade, Investment and Tourism in Japan. Being one of only three Cambodian enterprises that went to the exhibition, her stand generated interest from several Japanese business houses.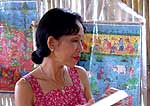 Upon In Sokha's return to Cambodia, orders were already on her desk. Although at this stage they were only trial orders, In Sokha is confident that business would pick up. "Japanese like handicraft products; they like what I produced very much," In Sokha explained with a grin. Holding a handbag made from palm leaves, she proudly explained the demands that increasing custom is putting on her business. "Palm products are now attracting a lot of enquiries from Japan. We urgently need to produce a catalogue for our customers there and we want to do it in full color. Our customers are demanding to see more variety and we now have to invest in a beautiful catalogue to show our range," she rattled out in one single breath. On several makeshift racks around the showroom, a huge collection of handicraft products made from bamboo, palm leaves, rattan and wood is hap - hazardly displayed. Some items are simply strewn on the floor, as there is far too much for the racks to accommodate.
Asked why she is not arranging her products more tidily or getting a better showroom for her business, In Sokha explained that she does not retail her products, and anyway, she is comfortable where she is. Her customers come all the way from Japan and the United States to place their orders here. "They know where I am and they don't mind", In Sokha said proudly as she opened a self-made business card holder to show off at least one hundred business cards from various customers - mostly Japanese.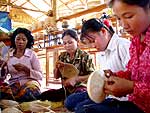 "Foreigners like 'Made in Cambodia' products because our prices are competitive, our quality is good and our designs are beautiful," In Sokha explained. "Everybody likes Cambodia products." Indeed, Cambodia does have a wonderful craft tradition and the workmanship of In Sokha's products is of an unquestionably high standard. Undeniable also is the spirit that drives the success of this and other successful Cambodian enterprises. After all, Cambodia's forefathers produced such masterpieces such as the wonderful Angkor temples; if In Sokha's business is anything to go by, then this spirit lives on.