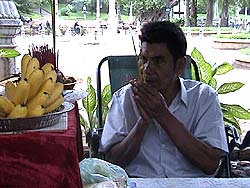 Just across the street from the famous Wat Phnom in Phnom Penh, there are about some 14 little stalls providing the services of 'fortune telling'. Engrossed in deep concentration at his stall under the shade of a temporary shelter, fortune teller Mr. Tea Kim was busy preparing a 'Yantra' for a customer. Obviously pleased with the progress of his magical works on a piece of red colored cloth before him, the 67 year-old was smiling away as he works on his spell. He was inscribing some magical drawings to help a customer ward off ill luck. "This is a Yantra I am making for a customer."
A Yantra is a drawing that is said to possess magical power. Usually drawn by a monk or religious person, Yantras are popularly sought after here in Cambodia for protection against ill luck and harm. Mr. Tea had been a monk before and had learned from the Abbot of the Kampuchea Krom temple the art of fortune telling and the skills to read cards. When asked whether his readings can be taken seriously, Mr. Tea smiled and replied that his customers are often pleased with his predictions. At his store, he provides the services of palm reading, foretelling by cards and astrology as well. On an average day, he is able to make about 20,000riels and that is enough for him to pay for the rental of his little store and also take care of his living expenses.
By word of mouth, people come to him from all over the nation and he is happy to have the respect of his followers. "I make an honest living by telling people what I believe to be the truth and I don't lie to people just to make money," Mr. Tea affirmed. The temple in Wat Phnom houses a deity that is very much revered by the locals and especially in the evenings, on weekends and public holidays, the place is often crowded with people going there to pay their respect. Following the visit to the temple, people would usually stroll across the street to have their fortune told. It is not surprising to see all the stalls being occupied, especially on weekends. Although each stall measures less than 1.5 square meters in size, sometimes as many as ten people would crowd around one stall to listen in as the fortune teller predicts the future for one of their mates.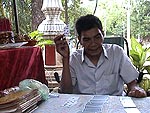 The smell of burning incense can be quite overwhelming, yet people stroll up and down the narrow strip of pavement in front of the stalls trying to decide which of the 14 fortune tellers to call upon. The elderly Mr. Tea's stall never seems to have a moment free and people actually stand in queue even though some of the other stalls are free and between visits. "People come to me for various reasons; I have seen people concerned about their examination results, lonely people wanting to know when they can be married and others wanting to know if they will travel abroad, etc. I even have the occasional foreigner coming to me to have their fortune told," Tea said beamingly. "My stall is authorized by the Phnom Penh municipal and this place comes under the charge of Cheng San Investment Company to whom we pay a monthly charge to be here." "My customers always leave my stall happy and I am glad to be able to provide them at least that." Indeed, it is ultimately happiness that people seek and what better place to enjoy a little uplift than a visit to a friendly neighborhood fortune-teller.