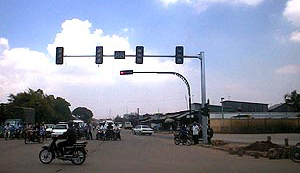 Traffic Lights
Larger traffic lights are being installed at several road junctions to replace the present tiny ones in Phnom Penh. These new lights come with a timer each to help drivers prepare themselves. An official at the Department of Public Work & Transportation, Deputy Mr. Peng Sokun, told our reporter that the funding came from China and that these lights are better and they will be installed at more places around the capital.
Khmer Language Over Thai Radio:
The Bangkok Post reported last month that a radio station in Thailand's Surin province is preparing to launch Khmer-language broadcasts for the nearly 1 million ethnic Khmers who live near the Cambodian border in Surin, Sisaket and Buriran province. Previously banned, this new move will definitely be well received and appreciated.
Canada To Drop Tariffs, Quotas
It was reported in the Daily News recently that Canadian Ambassador Stephanie Beck met with Prime Minister Hun Sen to brief him on a new Canadian economic initiative to drop tariffs and quotas on all goods, including garments, come 2003. The Canadian initiative will certainly be a boon to all businessmen once this comes into effect. Canadians who are visiting Cambodia at the moment may now wish to look around to see what this country has to offer and start working ahead.
Ancient Bells At The Museum:
The National Museum recently received two ancient bells that were discovered by Cambodian deminers near the Thai border in the province of Pursat. The two bells dated at between 2,200 years old and 2,400 years old and measuring 60 centimeters in height are believed to be Elephant Bells used in cremation ceremonies. They are now at the museum for cleaning and may very soon become new exhibits for people to enjoy.
Asean Cultural Week:
Asean Cultural Week, Oct 23 to Nov 1, will be celebrated in Siem Reap. There will be performances not only by local artists but also artists from Indonesia, Laos, Burma and Thailand. The venue is set to be next to the elephant terrace, Angkor Thom. On the final day of the festival, artists from all the participating countries will jointly perform parts of the Indian epic Ramayana.
New Airline took to the skies:
Cambodia's newest airline, Mekong Airlines, took to the skies on 16th September. The new airline began Phnom Penh - Bangkok, Phnom Penh - Siem Reap and Siem Reap - Bangkok services and plans to add flights between Phnom Penh and Hong Kong, Kula Lumpur and Singapore this month.
New Internet Service Provider:
Cambodia Shinawatra, the operator of the 011 mobile phone service, is working on plans to operate and include internet service as an added advantage for users who use their services. Details have yet to be finalized, but according to reliable sources, this new service may be launched anytime within the next month or so.