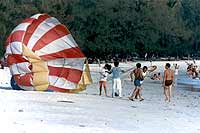 Bringing together all of the components provided by tourism suppliers into one location creates the potential for a tourist's destination. Destinations are the final stopping points of trips where tourists seek to "escape" their daily routines and enjoy rest, relaxation, recreation, and entertainment. These destinations can be found any where in the world and range all the way from quiet and secluded guest retreats to those floating resorts we call cruise ships. No matter where they are located or how attractive the destinations might be, tourists will not come unless the facilities and activities they desire are provided. The types of destinations from which travelers can choose today are numerous. Although each destination has its own unique appeal to tourists, they often share many similarities based on seasonal demand and the level of commercial development needed to meet guests' needs.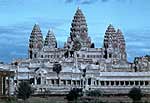 These shared similarities allow us to classify destinations into the following strategic groups: Far from the Maddening Crowds, Seasonal Delights, Spotlight on Sporting Activities, Year-Round Playgrounds, and Bright Lights and City Sights. Destinations that are grouped in each of these categories face similar marketing, management and financial opportunities and challenges. Some destinations face dramatic seasonal shifts in demand, but others experience more consistent demand throughout the year. Shifting patterns in demand can impact a variety of decisions, including marketing plans, staffing patterns, cash flow projection, and capital expenditure plans. Steps are therefore being taken at most tourist destinations to attract additional visitors during less popular time periods.
Tourist destinations continue to grow in popularity and so do the choices travelers face when selecting their perfect destination. It could be a fishing lodge, a mountain resort, a seaside resort, a golf resort, a spa resort, a cruise ship, an urban tourist Mecca or even a visit to The Angkor Wat. As the choices grow and the opportunities for leisure travel increase, tourist destinations must focus on meeting a variety of guest needs while continuing to improve service offerings for future success.